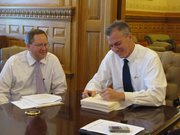 Related document

Topeka — It's official. On July 1, the state sales tax will increase by one penny per dollar.
Gov. Mark Parkinson on Thursday cleared the decks of the 2010 legislative session by signing into law the tax increase, the $13.7 billion budget, and the new seat-belt restrictions.
He also applied line-item vetoes to several politically charged amendments.
"Kansas is poised for the economic recovery that it deserves," Parkinson said after wrapping up the Legislature's work.
At the outset of the session in January, Parkinson argued for a tax increase, saying that after six rounds of budget cutting that sliced spending by nearly $1 billion, further cuts would do permanent damage to schools, public safety and social services.
In the end, he got what he wanted: a temporary 1-cent increase in the state sales tax, from 5.3 cents per dollar to 6.3 cents per dollar. The rate will decrease to 5.7 cents per dollar in 2013 with a portion of the revenue generated going to a new $8.2 billion, 10-year transportation program.
The vetoes
In approving the budget, Parkinson applied several line-item vetoes.
The Legislature, which meets Friday for the formal end of the legislative session, could attempt to overturn the vetoes, but that was doubtful.
Parkinson vetoed a budget provision that would have prevented the state from forwarding federal family planning services dollars to Planned Parenthood clinics in Hays and Wichita.
Anti-abortion advocates sought the provision because they dislike Planned Parenthood, which provides abortion services. Planned Parenthood officials said none of the federal dollars are used for abortions.
"The family planning services provided by these facilities help lower the likelihood of unplanned pregnancy, and thus reduce abortions," Parkinson said.
He also vetoed a measure designed to prevent the state from spending any money on regulating greenhouse gases. The provision was sought by legislators who oppose potential regulations on carbon dioxide emissions. But utility officials said the amendment could have actually prompted the federal Environmental Protection Agency to take over environmental regulation in Kansas.
"This proviso has unintended consequences bringing forth regulatory uncertainty which would hinder Kansas' ability to serve our citizens, homes, farms and businesses," Parkinson said.
State Sen. Tim Huelskamp, R-Fowler, and one of the authors of the two amendments, criticized Parkinson.
"The vast majority of Kansans want their elected officials to stop taxpayer funding of abortions, combat Obama's cap-and-tax proposal, and resist an out-of-control EPA. Governor Parkinson is ignoring the voice of hard-working Kansans," he said.
Parkinson, as he earlier promised, vetoed a provision that inadvertently de-funded higher education by $3.6 million and jeopardized $40 million in federal stimulus funding. The amendment to the budget was supposed to have increased higher education funding by $3.6 million, but an error in the provision's wording actually decreased higher education funding. The error would have reduced higher education funding below the floor necessary to access the federal funds. Reginald Robinson, Kansas Board of Regents president and chief executive officer, thanked Parkinson for vetoing the provision.
Parkinson also rejected a provision to cut the pay of state officers by 5 percent. Parkinson said this would have hurt the judicial branch the most. He said he and Lt. Gov. Troy Findley will continue taking a voluntary pay cut and he noted other top state officials could do the same thing.
And he struck a measure to transfer funds from Public Broadcasting to the Kansas Commission on Veteran Affairs. Parkinson vetoed this provision, saying the transfer would have cut the operating grant to Public Broadcasting by 50 percent, while the Veteran Affairs agency will get a 30 percent increase even with the veto.
Seat belts, nursing homes and state park
Parkinson on Thursday also signed a primary seat-belt bill, which means a law officer can stop a vehicle if the officer sees the driver not wearing a seat belt.
He also signed a nursing home "bed tax" of up to $1,950 per year. The tax is designed to raise about $30 million and attract an additional $56 million in federal Medicaid funds. All of the funds would be returned to nursing homes to offset past budget cuts.
And Parkinson approved a bill to set up licensing and inspection of home day care centers, and a bill designating Prairie Spirit Rail Trail the state's 25th state park. The hike and bike trail runs 51 miles between Ottawa and Iola.
Copyright 2018 The Lawrence Journal-World. All rights reserved. This material may not be published, broadcast, rewritten or redistributed. We strive to uphold our values for every story published.