Photo Gallery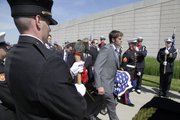 Funeral of Shawnee firefighter John Glaser
Leawood — The Shawnee community and first responders from across the region paid their final respects on Thursday to firefighter John Glaser.
A procession of about 100 fire apparatus and other vehicles began its journey in Shawnee before traveling to a Leawood church for the funeral of Glaser, who died Saturday in the line of duty in a Shawnee house fire. Hundreds lined the streets to watch the procession, and the following funeral service commemorated the man remembered for his wit, intelligence, compassion and bravery.
"Each of you knows the meaning of 'call to duty,'" Shawnee Fire Chief Jeff Hudson told the crowd at the funeral. "John's call to duty lives deep in his soul, and he showed that call to duty every day.
"John lived 'call to duty' so much that he gave his life … because he thought someone was trapped in that burning home, and he might be able to save them."
The procession began at Amos Family Chapel of Shawnee, where Glaser's casket was placed on a Shawnee fire truck, which left the funeral home shortly before 9:30 a.m., followed by cars for Glaser's family and the hundreds of fire service vehicles, from most from the Kansas City metro area, as far west as Topeka and as far east as Oak Grove, Mo.
Members of the public turned out along the procession route on Johnson Drive and Nieman Road — driving among American flags placed along the road by the Shawnee Downtown Partnership — some saluting or removing their hats as the vehicles passed.
Joe Brown of Shawnee, his son Jack and Jack's friend Keilan Harwig were among those who came out to watch the procession, sitting in the 7-Eleven parking lot at Johnson Drive and Nieman. Brown said the family has been following news about Glaser.
"Once we found out they were going to do a big procession, we wanted to come and witness it," Brown said.
Jack and Keilan's class at Ray Marsh Elementary School had planned to walk to Johnson Drive and Quivira Road when plans at first had the processional continuing to Quivira on Johnson Drive rather than Neiman. When those plans changed, Brown said he decided to get Jack and Keilan out of their last day of school to watch it.
"I thought it would be a great opportunity for them to come and show their respect," Brown said.
Dan Distler of PrePress Graphics stood in front of his business taking photos of the procession. He said he planned to send the photos to his cousin, a retired firefighter in Michigan.
"It's pretty impressive," he said of the long line of trucks passing.
Shawnee Fire Station 71 served as another big gathering point. Firefighters from as far away as Manhattan, Kan., gathered to watch the procession, as did the wives of the Shawnee firefighters riding in the procession.
At the services at the Church of the Resurrection in Leawood, Pastor Adam Hamilton shared stories about Glaser from his family. Born Oct. 7, 1976, Glaser's parents said their son was the perfect baby and a joy from the start.
As a child, he used his middle name, Bradford, going by Brad or J.B. Hamilton said Glaser's parents described him as outgoing, loving animals and the arts.
"John was a remarkable boy, and he grew into a more remarkable man," Hamilton said, later adding "He was a man who was larger than life and who loved life."
Hamilton discussed Glaser's love of the Kansas Jayhawks, his service in the Marines and his decision to go into firefighting, before Hudson spoke, describing Glaser's intelligence, work ethic and contributions to the Shawnee Fire Department.
"John came to us as a young man who had a passion for helping people and wanted to do everything he could to be a good firefighter," Hudson said.
Glaser's survivors include his wife, Amber (Plumb) Glaser; a son, Brecken Joseph Glaser; a daughter, Emma Grace Glaser; his parents, Arvon and Patty Glaser; and a brother, Michael Glaser.
Contributions to the John Glaser Memorial Fund at Bank of America continue to pour in. A group from KU fan website Phog.net is working to raise $5,000 in memory of John Glaser, and as of Thursday afternoon had raised $4,670.79. The Shawnee Planet Sub at 75th Street and Quivira will donate a portion of its daily sales on Saturday, May 29, to the fund. For more information call (913) 248-9955.
Copyright 2018 The Lawrence Journal-World. All rights reserved. This material may not be published, broadcast, rewritten or redistributed. We strive to uphold our values for every story published.