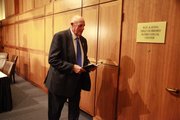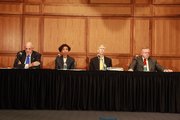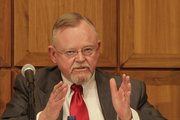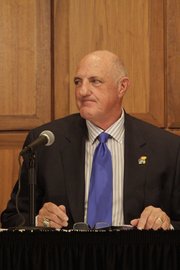 Photo Gallery

Suspects in KU ticket investigation
The ongoing ticket scandal at Kansas Athletics Inc. focuses on employees selling tickets for personal profit. As at least one federal investigation continues, here's a look at some of the players still in the game — some directly implicated by a Kansas University internal investigation, and others whose connections keep them on the sidelines.
Related document

Related document

-->
6News report on ticket investigation
Wednesday morning broke with a report from yahoo.com that revealed David Freeman started singing about the origins of the ticket scandal back in 2006 to a reporter now working for Yahoo.
That reporter is Jason King. Freeman told King then what he told federal authorities late in 2009, that Rodney Jones of the Williams Fund was among those selling 2002 Final Four tickets to brokers and pocketing the cash. King, then working at the Kansas City Star, wasn't able to get anyone to confirm the story. Since newspapers aren't in the business of giving a forum to a convicted criminal to make accusations that can't be verified, the story never saw print.
I wanted to know Wednesday whether King had taken Freeman's accusations to either athletic director Lew Perkins or his spokesman, Jim Marchiony, back in 2006. Had King answered in the affirmative, I was going to begin typing Perkins' career obituary.
"You can't just give an open mike to one guy," King said. "You have to back the story up. We weren't able to do that. We didn't talk to Lew because all the information Freeman gave us happened at a time before Lew was at Kansas. Talking to Lew was going to be our last stop."
If Perkins had known about the accusations, didn't launch an investigation and allowed Jones to continue working with tickets, he would have been complicit in the current scandal.
"Jason never made a comment to me, period," Perkins said. "We would have looked into it right away. We would have jumped all over it."
Had that occurred, the current scandal, which stretched from 2005 to 2010, would have been exposed much earlier.
The story gained credibility late last year, when Freeman sang to the feds in an attempt to ease his sentence for a bribery charge. So in a very twisted way, the real hero here is Freeman, a guy convicted of drug charges decades ago and who next month is scheduled to begin serving an 18-month prison term for bribery. Without Freeman ratting out Jones, one of the six former employees identified in the report as cashing in on the ticket scam, the thefts still would be going strong. Based on the way it expanded through the years, it would be getting bigger, not smaller.
The Wichita law firm, Foulston Siefkin LLP, that KU hired to investigate the scandal, did a remarkably thorough job considering it didn't have the power to force anyone to talk. The feds have that subpoena power, so look for more fireworks when they are finished sweating people.
Not that the law firm's report didn't have plenty of sizzle. Here's how out of control the ticket stealing grew, according to the report: Charlette Blubaugh gave permission to underlings Brandon Simmons and Jason Jeffries to take four extra season tickets, on top of the two complimentary ones they were allowed as employees. The number of tickets escalated from six to 56 in the final two years. Unbelievable.
Perkins, no micro-manager, said he was thrown a curveball and missed it. Had he been watching more closely, he would have realized it was a fastball right down the middle. People he trusted too completely brought national embarrassment to his department and the university. Now Perkins is batting with two strikes.
Copyright 2018 The Lawrence Journal-World. All rights reserved. This material may not be published, broadcast, rewritten or redistributed. We strive to uphold our values for every story published.