More golfers carded triple-digit scores than broke 80 in the Class 6A boys golf state tournament on a hot, windy Monday at Alvamar Country Club.
Tight fairways and slick, big-breaking greens sent the scores soaring, but that didn't keep a 15-year-old boy from Blue Valley West High from taming his game and taking home a first-place medal.
Travis Mays from Blue Valley West High fired a 1-over par 73, a victory fueled by his eagle on the par-5 17th hole. He holed out from 85 yards.
A pair of boys who carpooled to Shawnee Mission East High every morning tied for second and Ian Boat edged Chase Hanna in a playoff. Shawnee Mission East won the team competition, beating Blue Valley North by five strokes. Olathe Northwest took third.
Free State and Lawrence High did not qualify as teams, but two golfers from each school, all seniors, qualified to compete as individuals. Jon Cohen of LHS fared the best of the four on his home course, firing an 80, good for 12th place. Free State's Connor Klutman shot an 83 to earn an 18th-place medal. Cohen's teammate Alex Thompson shot a 91, as did Free State's Evan Schmidt, tying for 56th place in a field of 93 golfers.
Mays attributed the victory largely to accurate tee shots.
"I hit just about all the fairways, and if I didn't, I was just off the fairway," said Mays, a sophomore. "It was definitely my best round of the year."
Mays said he shot a 68 at Auburn Hills in Wichita this past summer, but had been struggling during this golf season, scoring no better than a 76 in any round until Monday.
In addition to the eagle, Mays had three birdies, nine pars, four bogeys and on No.16 a double bogey.
Photo Gallery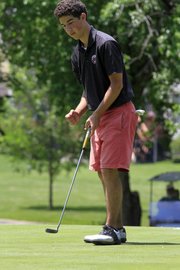 LHS and FSHS at 6A state golf tournament
Shawnee Mission East won this year's Class 6A state golf tournament at Alvamar Country Club on Monday, March 24, 2010.
Mays said he benefited from pointers given to him by Alvamar Country Club member Jerry McInerney during Sunday's practice round.
"He gave me all the right spots to hit it and how the greens break," Mays said. "He helped a lot."
Cohen, who plays Alvamar private regularly, needed no such help. Local knowledge helps only so much and Cohen, teeing off on No. 10, couldn't get it going early. He shot a 42 on that side, then rallied for a 38 that included birdies on Nos. 2, 5 and 7. He gave himself a shot at another one on his final hole, No. 9, by nailing a second shot to within eight feet on the elevated green. He went for it on the slick green, rolled it by and took his fifth three-putt of the day.
The high scores — including nine golfers in triple digits — didn't surprise Cohen.
"I've taken a lot of teammates out here and nobody on the first time has broken 100," Cohen said.
His 80 tied him for ninth with three other golfers and his drive out of bounds on No. 1, the first playoff hole, pushed him to 12th.
Klutman started the day well, with a pair of pars, but he followed that with bogey, bogey, double bogey. He recovered from there to post a solid round, one that included a bizarre shot that left him and another golfer in his group nervous for a moment.
Klutman hit an approach shot onto the 17th green and figured he had found trouble behind the green. Manhattan's Joe Ballard was certain he would find his ball on the green since he saw it come to rest. Ballard had a momentary moment of panic when he approached what he thought was his ball and saw that it was not. He thought for a second he had hit the wrong ball. Klutman looked at the ball in trouble behind the green and realized it wasn't his.
So what happened? Klutman's ball came to a dead stop after knocking Ballard's off the green. Ballard was able to replace the ball where it had been before it hit.
Free State coach Matt Gudenkauf saw it happen, but it happened so fast he thought that Klutman's ball had glanced off Ballard's and ended up in trouble.
"It was like a pool shot, hit the other ball and stayed right there," Gudenkauf said.
The event's best shot came during Sunday's practice round when Alvamar president Dick Stuntz aced No. 8, using a 7-iron for the 168-yard shot, the seventh hole-in-one of his life. Shawnee Mission East golfers Boat, Hanna, Zack Kasmiskie and coach Ermanno Ritschl witnessed the shot.
Copyright 2018 The Lawrence Journal-World. All rights reserved. This material may not be published, broadcast, rewritten or redistributed. We strive to uphold our values for every story published.