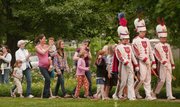 Past Event
When: Wednesday, May 26, 2010, 8 p.m.
Where: South Park, 12th and Massachusetts streets, Lawrence
Cost: Free
-->
-->
The first concert of the summer for the Lawrence City Band kicks off at 8 p.m. Wednesday in the band stand in South Park. Guest conductor will be Leroy Esau, former conductor of the Hutchinson Municipal Band.
Esau will conduct "National Emblem March" by E. E. Bagley. Other selections include music "From Bach to Rock," as the band plays a wide variety of music mixed in with marches and other traditional band music.
Concerts are Wednesdays through July 14 and are free and open to the public.
Additional performances:
June 2: Lawrence City Band Showcase, featuring soloists and talent from the City Band.
June 9: A Pre-Flag Day Celebration, "Esprit de Corps" by Robert Jager; Semper Fidelis March by John Philip Sousa.
June 16: 75th anniversary Camp Heritage, with guest conductor Martin Bergee, with Citation March; Procession of the Nobles; March Militaire Francaise; Irish Tune from County Derry
June 23: Welcome to Summer, with Neal Purvis, guest conductor. Featuring Heat Lightning, March by Bowles; "Kum Bah Yah" by Zdechlik.
June 30: Our Own 4th of July Show, with American Salute by Gould; Battle Hymn of the Republic; Commando March.
July 7: Annual Children's Concert, with music from "Star Wars," Children's March through the park.
July 14: The Grand Finale, with The Cowboys by John Williams; 1812 Overture with Fireworks and cannon; "The Stars and Stripes Forever."
Lawrence City Band concerts are sponsored by the City of Lawrence Parks and Recreation Department with assistance from the Rice Foundation.
In case of rain, concerts will be performed in Room 130 of Murphy Hall.
Copyright 2018 The Lawrence Journal-World. All rights reserved. This material may not be published, broadcast, rewritten or redistributed. We strive to uphold our values for every story published.