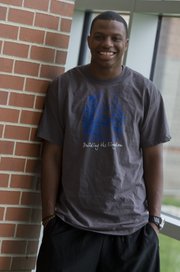 Aundre Allen doesn't want to think about his grades through the seventh grade, when he attended school in Miami.
FSHS Graduation
• 1 p.m. at the school's athletic stadium, 4700 Overland Drive.
• Parking is available in main lot north of the school. Handicapped parking spaces also are available in the Free State west lot and outside Lawrence Indoor Aquatic Center. People who use wheelchairs can be dropped off at the entrance to the stadium.
They were nothing to be proud of — mostly Cs and Ds.
Allen was trying his best, but he had too many distractions — mainly violence and gang-related activities in South Florida.
"I couldn't even really take it. It was so hard," he said.
Those days are long in the past. Allen will graduate this afternoon with Free State High School's Class of 2010. He plans to attend Baker University next fall.
"I feel like I've improved so much. It's so amazing, realizing how much I've grown in school," Allen said.
His older sister, Duchess Williams, initiated a chain of life-altering events that would put him on track to graduate.
Williams, a Kansas University track athlete at the time, decided Allen and younger brother Shawn Knighton would be better off living with her in Lawrence.
Allen said it was tough to leave Miami and his mother, Genessie Williams. Starting eighth grade at Central Junior High School, he kept quiet at first, not sure what to expect.
"I was like, man, people around here are really friendly. I didn't expect them to be so friendly," he said.
New opportunities developed through sports. He became a standout football and basketball player at Free State. He has received a scholarship to play football at Baker, in addition to his plans to study to become an architect.
Changing course
Allen's journey came with plenty of help. After his sister decided to move back to Florida, there was a chance he would have to leave Lawrence, too. He didn't want to.
Allen and his sister had attended Morning Star Church, where Allen met Jesse and Torrie Brinson, youth ministers with Midwest Student Ministries.
So Allen asked if he could live with the Brinsons and finish school. Later, the Brinsons became legal guardians of Knighton, now a Free State sophomore. Allen was close enough to turning 18, so the Brinsons didn't legally adopt him. But he still considers them his guardians.
"I definitely believe it's an intervention of God just the way his route took course," said Jesse Brinson, whose story has some similarities to Allen's.
Brinson grew up in Houston and encountered trouble, like drugs, but sports helped save him. He came to Lawrence and walked on to the KU football team and eventually into the ministry.
Brinson said Allen has made some important life decisions in a short amount of time. Among many things, Brinson tried to teach Allen to focus on his academics as well as athletics.
"He was looking for something stable, which is a lot of things that people miss out on," Brinson said. "Young men want someone to help teach them and coach them."
"If I never would have come to Kansas, I would have been in jail somewhere, maybe dead right now," Allen said.
Identifying with others
Allen's teachers say he has exceeded their expectations.
"He's taken advantage of every opportunity that he's been given, and he's taken it to the fullest," said Kelli Brahler, who taught him in a seminar class and in a creative foods course his senior year.
He's transferred his leadership role in athletics into the classroom.
Andrew Nussbaum, a social studies teacher, said Allen has been instrumental in getting Free State's service learning program going, including a mentoring program aimed at helping students from Topeka.
"He's willing to do what's expected and not expected (of a man), and he's really grown in the community and the classroom," Nussbaum said.
His days in Lawrence have given him confidence he can succeed in more than athletics. After years of thinking about it, he joined the men's choir his senior year.
He hopes his experience can be an inspiration for others who grew up with a rough childhood. But Allen's not finished with his own story.
"I'm the first male to go to college in my family, and so that's kind of like breaking the curse in the family and saying that we can actually succeed," he said. "I'm trying to take the name on to somewhere else and beyond."
Copyright 2018 The Lawrence Journal-World. All rights reserved. This material may not be published, broadcast, rewritten or redistributed. We strive to uphold our values for every story published.