Topeka — Free State High's 200-yard medley relay team of Heather Clark, Reilly Moore, Chloe Portela and Morgan Flannigan swam the fastest time in preliminaries Friday at the state swim meet.
Photo Gallery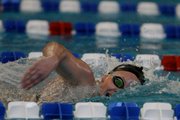 State swim meet prelims
Flannigan also placed second in the preliminaries of the 200 freestyle and 500 freestyle, while Portela was second in the 100 butterfly prelims.
Jessica Boyer had the top preliminary placing for Lawrence High, finishing fifth in the 100 butterfly.
The Firebirds' Clark and Portela went 3-4 in the 100 backstroke.
Lawrence High's Heather Cistola advanced to today's championship finals in the 200 freestyle and 500 freestyle.
Also advancing to the championship finals from Free State were Moore in the 50 freestyle and 100 breaststroke, Kara Mishler in the 100 butterfly, the 200 freestyle relay team of Mishler, Kayla Hedges, Adriane Black and Moore, and the 400 freestyle relay team of Portela, Hedges, Clark and Flannigan.
Today's championship finals will begin at 4:30 p.m.
Copyright 2018 The Lawrence Journal-World. All rights reserved. This material may not be published, broadcast, rewritten or redistributed. We strive to uphold our values for every story published.