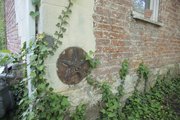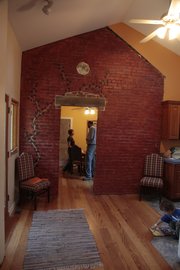 When Josh and Cari Davis first started fixing up their house in east Lawrence, they didn't even own it. It was in such bad shape, no bank would loan them the money to buy it.
It was basically a shell of a house. Two of its walls were so rotted out they were essentially worthless, and its very foundation had to be replaced. There was a giant hole in the middle of the floor.
"People would come by and see us working on it and say we were crazy," Josh says of those early years from 2000 to 2002 when they were fixing up the site, 1113 Pa., enough to persuade a lender to give them a mortgage. "But others would come by and use their imagination and see what we saw. They'd say, 'This is going to be so cute.'"
Their remodel was funded at first by Joe Bickford and Marci Francisco, who have worked for years with the Lawrence Preservation Alliance to save historic buildings.
"They basically acted as a bank until a real bank was willing to step in," Josh explains. "They're amazing."
In turn, the LPA honored them at its second annual awards dinner, which was May 6.
"We've noticed all the work Josh and Cari have put into their house since 2002. But just as important, they're active in their neighborhood association," says LPA president Dennis Brown, who also notes the couple have volunteered with other preservation projects and recently assisted with the Save Our Schools campaign. "We're really happy to recognize them with this award."
Since those early days when the house was on the brink of extinction, the Davises have built a 600-square-foot addition, doubling the size of the house.
"I like the character the old part the house brings to it and the modern feel of the addition," says Josh, a construction administrator with Treanor Architects. "It flows like a modern house, but it has a quality that can only be attained through time."
It was hard work getting it to that point. For Josh, the worst part was when they when they had to rebuild part of one of the walls in a crawlspace. "It was claustrophobia, spiders, general dirtiness," he says.
But it was satisfying watching the house take shape.
"I liked seeing it go from the stage where most people would say it's unsavable to the stage where people were saying, 'I can see it,'" he says. "To see it go from rubble to something people could picture."
And to a place he and his wife, who's a teacher at Pickney School, and their sons can call home.
"It's very important to preserve old buildings," Josh says. "For one, when they're gone, they're gone, and there'll be no turning back on it.
"It also helps give the neighborhood a sense of identity, helps make it feel more real, more lived in," he adds. "It's something that shows that we're not the first ones to pass through here, and we won't be the last."
About the LPA awards
The mission of Lawrence Preservation Alliance (LPA) is to preserve historically significant buildings and natural environments, and to educate the community about the benefits of historic preservation. Other awardees at the May 6 gathering:
St. Luke AME Church/Second Century for the successful completion of a major phase of rehabilitation of the church, which has authenticated ties to the early life of Langston Hughes. Second Century Fund was founded in 2004 after a Langston Hughes symposium at Kansas University, with a goal to preserve and restore the church, located at Ninth and New York streets, in time for its 100th birthday in 2010.
Marci Francisco and Joe Bickford: Beginning with co-founding of LPA in 1979, Francisco has been involved with every aspect of historic preservation of older homes and neighborhoods, especially in the Oread and east Lawrence neighborhoods and important buildings in Lawrence. Bickford began his work on preserving properties 10 years later and has continually and tirelessly helped in renovating homes and neighborhoods. Together they have helped save many properties through various governmental processes, financing, designing, reconstructing and repairing.
LPA has a membership of about 200 individuals and families and is governed by an all-volunteer board of 15-20 members.
Source: Lawrence Preservation Alliance
Copyright 2018 The Lawrence Journal-World. All rights reserved. This material may not be published, broadcast, rewritten or redistributed. We strive to uphold our values for every story published.