Topeka — Warm hugs and big smiles lit up the room at the Kansas National Guard Armory in Lawrence Friday morning as families welcomed home soldiers from a deployment to Kosovo.
The 21 soldiers of the Kansas National Guard returned home after eight months on a peacekeeping mission in Kosovo, where they conducted patrols to ensure the safety and security of the region.
Spc. Hatsady Rasphangthong summed up the feelings of many soldiers.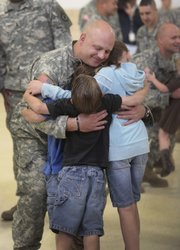 "It feels great," he said. "Actually, it's a mixture of excitement and anxiety."
His wife, Valerie, said it was nice to have him back after being by herself for so long.
"I think the webcam helped a lot," she said, saying they were typically able to keep up almost every day over the Internet.
The ceremony itself was short; the soldiers didn't travel all this way to listen to speeches, Kansas Gov. Mark Parkinson pointed out.
In addition to Parkinson, Maj. Gen. Tod Bunting, adjutant general of the Kansas National Guard, also welcomed the soldiers home and thanked them for their service.
Parkinson said he and others are "extremely appreciative" of the work they do.
"You, your families, your kids, your grandkids, will always know you served your country with great distinction," Parkinson said. "That's something you can always be proud of."
The soldiers now begin a transition back to their lives in this country. For Rasphangthong, that means work at the Federal Reserve in Kansas City.
For Staff Sgt. Christopher Huslig, it'll be back to setting up road construction zones, and reintegrating himself into the lives of his four children.
When asked to describe his emotions upon returning home after the eight-month deployment, Huslig paused for a moment.
"I don't know that you can describe it," he said. "You are excited, you're a little nervous and you're a lot scared."
Excited, obviously, to be home and back with family, but nervous about how the process will go after being gone so long.
"They've changed a lot," he said of his children.
His sister, Donna Foster, had been watching them while he was away. She said that everyone was glad to have him back.
"All of the baseball games have been rained out," she said. "So he hasn't had to miss any games."
Copyright 2018 The Lawrence Journal-World. All rights reserved. This material may not be published, broadcast, rewritten or redistributed. We strive to uphold our values for every story published.