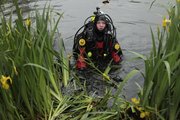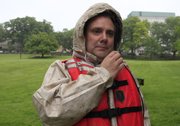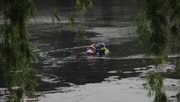 Though they weren't looking for any goalposts Monday morning, divers from Douglas County's underwater search and recovery team took advantage of an upcoming dredging at Potter Lake as a training opportunity.
A few underwater tasks needed to be accomplished before the lake will be dredged, which could occur as soon as early June.
Scott Campbell, associate director for public education and outreach at Kansas Biological Survey, said divers inspected a drainage pipe, marked some locations with buoys and searched for a piece of scientific equipment that had been dropped in the lake.
The seven-member underwater search and recovery squad — from the Lawrence Police Department, Douglas County Sheriff's Office and Lawrence-Douglas County Fire Medical — is called upon to recover underwater evidence, bodies or vehicles involved in crimes.
The pre-dredging work provided divers a chance to acquaint themselves with Potter Lake — a site the group had not trained at for about 10 years.
Douglas County Undersheriff Steve Hornberger, who oversees the squad, said the group tries to train in as many bodies of water as possible to prepare for emergencies.
By the end of the training session, Campbell said, the divers found the equipment they were looking for: a sediment corer used to collect sediment from the lake floor.
"We were certainly very impressed," he said. "They accomplished everything they set out to do today."
Copyright 2018 The Lawrence Journal-World. All rights reserved. This material may not be published, broadcast, rewritten or redistributed. We strive to uphold our values for every story published.