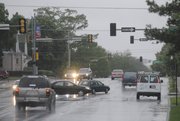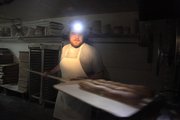 5:51
Westar Energy's website reports power has been restored to all Douglas County customers.
3:34 p.m.
According to the Westar Energy Website, 44 Douglas County customers are without power. However, a Westar spokesperson has not yet reported a cause for the day's outages.
2:26 p.m.
The Lawrence Public Library has closed for the day due to the power outages, but will reopen for normal business hours Tuesday, according to its website.
1:09 p.m.
Power has been restored to the 1,729 Westar Energy customers that lost it for nearly 20 minutes around 12:30 p.m. A definite cause has not been determined for the latest outage, nor the outage earlier Monday morning. Only 49 customers are still without power, according to the company's Web site.
12:36 p.m.
Westar Energy is reporting via its website that 1,782 Douglas County residents are again without electric power. Initial reports indicate businesses near 23rd and Louisiana Streets are without power. This comes after an hour-long power outage near downtown Lawrence Monday morning.
11:01 a.m.
More than 7,700 Westar Energy customers were without power for about an hour Monday morning, including many businesses in downtown Lawrence.
The power failures were confined primarily to the area north and east of 23rd and Iowa. Those who lost power represent about 17.5 percent of Westar customers in Lawrence.
Power went off about 9:35 a.m. in Lawrence, said Erin LaRow, Westar Energy spokeswoman. It was restored by about 10:45 a.m. As of 11 a.m., LaRow said the cause of the outage had not been determined.
However, a Westar Energy supervisor said the outage likely was caused by a lightning strike. He said two breakers were down, which was unusual.
Several traffic signals were out in the outage area, including signals along Sixth Street at Michigan and Maine and Massachusetts streets.
Any signals within the outage area that continued to function did so because they have backup battery power, said David Woosley, the city's traffic engineer. Only a handful of signals near downtown and in North Lawrence have such backup systems.
Power was out at City Hall.
Lawrence Memorial Hospital also operated without power, though the important parts of the hospital, including the emergency room and surgery departments were "fully functional" during the widespread outage, said Belinda Rehmer, LMH spokeswoman.
Douglas County buildings downtown also were without power and couldn't accept credit card payments. The power is now restored. Monday was the deadline for payment of the second half of 2009 real estate taxes.
Students, faculty and staff living in some of Kansas University's residential facilities — specifically, GSP-Corbin Hall, Sunflower Apartments and some scholarship halls — were without power briefly Monday morning, said Jill Jess, a KU spokeswoman.
Audio Reader and Kansas Public Radio both have backup power systems, and were unaffected by the outage.
Students should not — repeat, should not — expect a break from their academic responsibilities as the semester's end approaches.
"Finals are going on as scheduled," Jess said.
Copyright 2018 The Lawrence Journal-World. All rights reserved. This material may not be published, broadcast, rewritten or redistributed. We strive to uphold our values for every story published.