Jamie Jarrett probably needed an Advil after the softball game she played on Thursday. Not to worry, though. The Lawrence High senior was loving every minute of it.
"I have this headache because I've been screaming all game," Jarrett said. "I'm slowly losing my voice. I seriously can't believe we just won here. I'm stumbling. I can't describe it."
Lawrence High's 9-1 victory at Free State was instantly sweet for LHS because of the obvious crosstown rivalry factor. It also gave the surging Lions their fifth victory in the past seven games.
But for Jarrett, a senior who's played varsity softball since her freshman year, the victory dug much deeper than that. Thursday's win represented the first time Jarrett, along with LHS seniors Jamie Morgison and Hannah Lopez, had defeated the Firebirds in their prep careers.
"Me and the other Jamie (Morgison) have known each other since we were born," Jarrett said. "When it hit us that we beat Free State, we just could not help it. We just jumped up, hugged each other and didn't let go. It was so exciting."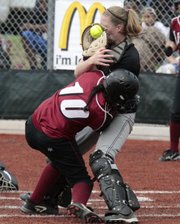 Jarrett's production atop the LHS batting order was a big reason the Lions spoiled the Firebirds' Senior Night. She went 1-for-2, walked twice, hit a triple, drove in two and scored two runs.
Before the triple in the sixth inning, LHS coach Reenie Stogsdill called Jarrett over from the batter's box. With the Lions ahead, 5-0, the coach had a message for her shortstop.
"I called timeout and talked to her and said, 'This is where you want to be. You go get it right here. You're a senior,'" Stogsdill said. "And what does she do? She hits a triple. She's just been phenomenal this year."
The triple scored Lauren Byrn and Kristen Bell. As Jarrett slid into third base, the throw from the outfield sailed over third and into the dugout. The umpire ruled it was a dead ball and granted Jarrett an advance to home plate on the error. With one swing, a 5-0 LHS lead turned into 8-0.
"You never want to lose, but the worst thing is to lose on Senior Night," Free State senior pitcher Megan Smith said. "It's horrible that my last memory here is getting pounded by LHS."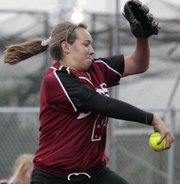 Smith went the distance on the mound for Free State, surrendering 12 hits, striking out two and walking three. The Firebirds committed four errors.
"We're just not experienced enough or confident enough to close (games)," Free State coach Lee Ice said. "And when we get behind, it gets worse because we tighten up and one error leads to another. Give Lawrence High credit. They executed. They didn't make any errors. We did."
The Lions blew the game open with six runs in the sixth inning. Megan Wilson's RBI single plated Kasey Waite, and Bell followed with a single that scored Morgison and Wilson. Jarrett's triple followed and essentially put the game out of reach.
Lauren Massey — who else? — earned the victory for the Lions (7-12). Massey has thrown every pitch for LHS this season. Her pitch count entering Thursday night: 1,491 for the season.
Massey mostly pitched to contact against the Firebirds (5-14), giving up nine hits, walking two and striking out two. She gave up one run, a solo shot that FSHS freshman Courtney Parker crushed over the left-field fence in the sixth inning.
"They won the game," Massey said of the LHS defense, which didn't commit an error. "Without them, we wouldn't have won. They always have my back, which is awesome. It's nice to know when I pitch, I have a solid D behind me."
The Lions' defense had quite the praise for its junior hurler as well.
"She's a gladiator. A gladiator," Jarrett said of Massey. "Every game, she goes all out on all her pitches. She also has great placement. She's been doing that for three years now."
Lawrence High and Free State will clash again in the final game of the regular season at 6 p.m. Tuesday at LHS.
"We have the same opportunity next Tuesday," Ice said. "Let's just wipe this one away and be ready to play next week."
Copyright 2018 The Lawrence Journal-World. All rights reserved. This material may not be published, broadcast, rewritten or redistributed. We strive to uphold our values for every story published.