Grace Lang thought she had a goal.
So did Free State High girls soccer coach Jason Pendleton.
Lang, a senior, struck a beautiful shot from roughly 20 yards away that initially appeared high, but kept dipping steadily toward the net. Unfortunately for the Firebirds, the shot barely missed, clanking off the top crossbar and sailing off to the side. Free State didn't recover and lost, 3-0, to Olathe East on Tuesday at FSHS.
"I did think it was going in, yeah," Pendleton said. "It was dipping, and I actually thought it was in. Just a little bit unlucky."
Lang's attempt occurred only two minutes into the game and would have set a different tone against the juggernaut Hawks, who improved to 11-0. Free State fell to 6-6-1.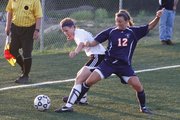 "I just saw the ball pop out, and no one was coming at me, so I decided to try to take a shot and see what the goalkeeper was made of," Lang said. "I was a bit surprised (it didn't go in)."
If Lang's shot lands in the net, who knows what happens? Olathe East doesn't surrender goals in the first two minutes too often. The Hawks are the top-ranked team in Kansas and No. 7 in the country in the latest National Soccer Coaches Association of America poll. They have two Div. I signees (Claire Nicholson, Tulsa; Darci Miller, South Dakota State).
"Any time you get a goal in soccer, the first goal in particular, I think that would have inspired us and given us a little more confidence," Pendleton said. "Even without that, we still were battling and creating against a really quality opponent."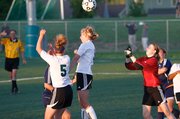 Free State came out firing in the opening minutes. The Firebirds had another golden opportunity at the 35:00 mark in the first half, but Hillary Yoder's attempt barely missed to the left.
Perhaps that woke the Hawks up a bit.
Olathe East took control from that point, creating 15 shots on goal, to Free State's four.
The Hawks' standouts, Nicholson and Miller, scored the first and third goals, respectively, while Kara Bartels scored the second goal off a header.
"They're really good at their shot technique because most of their shots didn't come straight to me," Free State sophomore goalkeeper Elena Auer said. "They were more directed to the corners, which are harder to defend."
Auer was no slouch near the net. The sophomore, who said she was more tired after Tuesday's game than any other game, was active around the goal and saved 12 shots.
"She's very conscientious, and I think each game she gets better and better and gains a little more confidence in herself," Pendleton said. "I thought she did a really nice job and made some big saves for us. The goalkeeper she's going to be two years from now is going to be really outstanding because she has a determination and will to really be a great goalkeeper."
The Firebirds already have six shutouts this season.
Free State will play host to Olathe North at 6 p.m. Thursday.
"I feel like if we play as hard as we did tonight, we have a chance at winning every single game that we have coming up," Lang said.
Copyright 2018 The Lawrence Journal-World. All rights reserved. This material may not be published, broadcast, rewritten or redistributed. We strive to uphold our values for every story published.