It wasn't something Mike Hill particularly wanted to do, but given the circumstances, the Free State High baseball coach deemed it necessary.
Although Firebirds starter Cody Kukuk entered the final inning of Tuesday night's game with visiting Olathe South with a no-hitter going, Hill opted to pull the junior standout with two runners on and nobody out in the top of the seventh inning.
"Nobody wants to go pull a guy when he's got a no-hitter going," said Hill, whose team survived a late-game scare to hold on for an 8-5 victory. "But what you really don't want is him getting hurt. So it was an easy choice in that regard."
Despite the early exit, however, the junior lefty made the most of his time on the mound, piecing together the most recent in what is becoming a collection of promising outings.
While his final line didn't appear overly dominant — he allowed four runs (two earned) on no hits in six innings, striking out seven and walking six — it was hard not to walk away impressed with the moxie of the Firebirds' ace.
Photo Gallery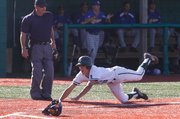 Free State baseball vs. Olathe South
Kukuk called his performance one of his best of the season, and after a rare off-night offensively in last Friday's loss to Blue Valley North, the Firebirds bounced back to give him plenty of support, finishing with 10 hits and scoring at least once in five of the six innings in which they batted.
"That takes a lot of pressure off the pitcher," said Kukuk. "It makes it a lot easier to go out there and throw strikes and not be timid."
With the exception of a sloppy seventh inning — in which Olathe South capitalized on two Free State errors to score four runs — the Firebirds' performance as a whole Tuesday left little to be desired, as they took another step forward in their quest for the top seed in the regional tournament.
Free State wasted little time getting going offensively, scoring two runs in the bottom of the first on a Colin Toalson single, and after adding one run each in both the second and third innings, broke the game open with a three-run fourth inning.
Nick Hassig's one-out single scored Cory Delg, and two batters later, Hassig and pinch runner Bo Schneider scored on a single by Tim Lewis to push the Firebirds' lead to 7-1 and give Kukuk all the cushion he'd need.
"It was definitely nice to get the bats going again," said Hassig, who finished 3-for-4 with a double, two RBIs and two runs scored. "Any time you have a game like that, you want to get back on the field and get it better, and I think we did that today."
Tuesday's victory, meanwhile, represented the first of a three-games-in-three-days stretch that continues today with a game at Olathe East at 5:30 p.m. and concludes Thursday when the Firebirds take on Shawnee Mission North.
"At this point, it becomes mental, and we've got three games in a row here with a lot of implications," Hill said. "So we want to be sharp and focused, and the kids have been great. They've done it all year, and I'm very confident they'll be able to get it done (again)."
Copyright 2018 The Lawrence Journal-World. All rights reserved. This material may not be published, broadcast, rewritten or redistributed. We strive to uphold our values for every story published.