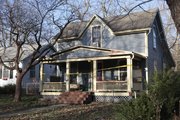 Death investigation
Lawrence police arrested a 36-year-old homeless man Wednesday in connection with the death of a man whose body was found Tuesday afternoon in his house in the 800 block of Maine Street.
Police Wednesday afternoon identified Lawrence resident Douglas Fleming, 46, as the victim. An autopsy performed Wednesday shows he died from a head injury.
The suspect was arrested on a charge of reckless involuntary manslaughter.
Fleming had been injured in a fight on Sunday, police said, but refused medical treatment for his injuries. Police said Fleming had identified the suspect before he died.
"I don't know how unusual it is," Lawrence Police Sgt. Bill Cory said. "When officers contacted him that night, things appeared to be OK."
Officers received a call at 1:50 p.m. Tuesday to check on Fleming at his home after he didn't show up for work.
A few neighbors said Fleming kept to himself and worked in the construction field.
"He would just come and go," Lisa Grossman said.
Grossman, who lives on the street, said she last saw Fleming at some point last week.
Lawrence police are still investigating a possible motive for the fight.
"It's still under investigation," Cory said. "Just because there's been an arrest made, there's still a lot of work to do. Investigators are still out and about talking to people."
Police encourage anyone with additional information on the incident to contact the Lawrence Police Department at 843-7509, or the CrimeStoppers TIPS hot line at 843-TIPS.
Copyright 2018 The Lawrence Journal-World. All rights reserved. This material may not be published, broadcast, rewritten or redistributed. We strive to uphold our values for every story published.