Photo Gallery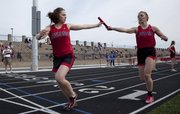 High school track meet at LHS
Photos from the LHS triangular track meet Tuesday, March 30, 2010.
Any fears of a fall-off following Drue Davis' Class 6A state-title performance in the pole vault last season were quickly dispelled Tuesday afternoon at Lawrence High, when the Free State senior turned in a dominant — and somewhat surprising — showing during the Lawrence High Triangular track meet.
In just the Firebirds' second competition of the season, Davis' winning height in the pole vault — 11-feet, 6-inches — matched her winning jump at last year's Class 6A state meet, which also tied for the ninth-best jump in Kansas prep history and left the senior pleasantly surprised at this early juncture of the season.
"It's a good start," said Davis, who also earned individual victories in the 100-meter dash (12.14 seconds) and 200-meter dash (26.62), while helping the Firebirds to a second-place finish in the 4X100-meter relay (54.52). "I wasn't really expecting to do that well so early, so it's really exciting."
Informed of Davis' winning height immediately following Tuesday's meet, Free State coach Steve Heffernan seemed shocked.
"That's fantastic," he said. "To be there at this point in the season is great."
The Firebirds girls team tied with Lawrence High for second overall, behind meet winner Leavenworth. On the boys side, Free State took the team title ahead of second-place Leavenworth and third-place Lawrence High.
The coaches entered the day with different objectives: Heffernan hoped to get his team's younger athletes early-season experience, while the Lions' Jack Hood viewed the meet — as he does every regular-season meet — as little more than a stepping stone to this spring's state competition.
Both goals seemed to be met effectively, as many of the Firebirds' sophomores competed ably, and Hood's Lions rebounded well from what the coach described as a brutal Monday afternoon practice, particularly in the hurdles and distance events.
Whitney Demby provided a high point for the Lions, finishing first in the 100-meter hurdles and second in the 300-meter hurdles and triple jump. Demby also ran the second leg of the Lions' winning 4X400 relay team, while teammate TaMaya Green won the 300-meter hurdles for LHS.
"Going into my senior year, it makes you work 10 times harder," said Demby, who finished in the top 10 of two events at last year's state meet and hopes to improve upon those finishes this spring. "You know it's your last year, and you're not going to come back (and compete) at Lawrence High."
Following Tuesday's performance, Davis had as much reason to smile as anyone.
"I don't think there's that much pressure," Davis said of the prospect of defending her state title. "I know what I'm capable of, so there haven't been that many nerves. That might change at the state meet, but I'm having fun right now."
Copyright 2018 The Lawrence Journal-World. All rights reserved. This material may not be published, broadcast, rewritten or redistributed. We strive to uphold our values for every story published.