Photo Gallery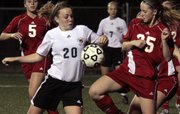 Free State girls vs. Shawnee Heights
Photos from the Free State girls' soccer game against Shawnee Heights on Tuesday, March 30, 2010.
Two games into girls soccer season and Free State High is more like Frustration High.
The Firebirds dominated Shawnee Heights on Tuesday night, yet had to settle for a 1-1 tie on Free State's artificial turf.
"I definitely feel we should have won," senior midfielder Grace Lang said. "We dominated pretty much, but it comes down to finishing."
After a scoreless first half, the Firebirds broke the ice 51 seconds into the second period when freshman Chelsea Casady squeezed the ball into the net after it bounded off Lang in front of the goal face.
It was the Firebirds' first goal of the season — they were blanked 3-0 by Washburn Rural in their opener last week — and gave them a healthy dose of momentum.
But Free State simply couldn't get the ball past Thunderbirds goalkeeper Mallorie Monhollon, who made a couple of diving stops, or convert chances. Numerous shots were either wide or over the top.
Meanwhile, the T-Birds rarely threatened Free State netminder Elena Auer. In fact, the suburban Topeka school had only one shot on goal in the second half and, unfortunately for the Firebirds, it went in.
A defensive breakdown left Heights' Morgan Trupp alone 10 yards out, and she drilled the ball past Auer to forge a 1-1 tie.
"We made a mistake," Free State coach Jason Pendleton said, "and they punished us for it."
Regulation ended that way, and so did the first 10-minute overtime. In the second 10-minute extra period, the Firebirds had the wind and spent practically the entire time on Heights' end of the field. But they had nothing to show for it.
Basically, the same thing had happened in the opener against Washburn Rural.
"That (3-0) score was deceptive because we had twice as many opportunities," Pendleton said. "We've got to find a way to capitalize."
The Firebirds will have three chances next week. They'll go to Leavenworth on Tuesday, entertain Olathe Northwest on Thursday, then travel to Lansing for a make-up game Friday.
"We just need to keep on building and keep making plays," Lang said, "and learn how to finish."
Copyright 2018 The Lawrence Journal-World. All rights reserved. This material may not be published, broadcast, rewritten or redistributed. We strive to uphold our values for every story published.