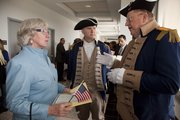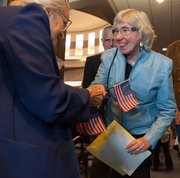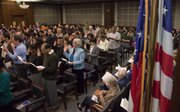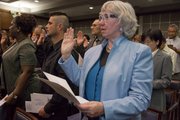 When I met and married my husband, Don Phillips, in London in 1997 and moved to Kansas, I thought my stay here would be temporary.
I didn't apply for American citizenship because I wanted to retain my hard-earned voting rights in Ireland. The U.S. government issued me a green card, declared I was a legal resident alien and gave me permission to live and work here until March 2010.
As my residency extended, I increasingly found myself sitting somewhat on the edge of political conversations.
"On the edge?" you might well ask.
Yes, partly due to that somewhat polite British attitude of trying to be respectful and uncritical of others' political systems when you are in their country.
I felt some agitation with Americans who criticized their politicians but refused to vote or try to change things.
And so I began to change my mind about where I fit in the United States.
As I observed the political excitement during the last U.S. presidential election, as I talked with descendants of freed slaves, and as I realized my stay here was permanent and my alien status was coming to an end, I decided to apply for American citizenship to earn the right to vote and become more politically involved.
After a process of some months — during which very long forms were filled, historical facts learned, memorized and tested, interviews and background checks completed — I was deemed fit to be numbered among this country's citizens. I was invited to attend a naturalization ceremony last Friday — my 13th wedding anniversary — at the federal courthouse in Kansas City, Kan.
I arrived way too early and was excited beyond belief. I was joined by 82 other about-to-be citizens from 30 countries, including Slovakia, South Korea, Russia, Mexico, China, Iran, Brazil and Peru. They included people from all walks of life: doctors, translators, professors, chemists, KU students and homemakers.
I was the only one from Ireland. After final forms were processed, naturalization certificates checked and green cards handed in, we were led to the courtroom, seated and told about the ceremony.
"Welcome and congratulations to each one of you," said presiding Judge Carlos Murguia as he opened the official ceremony.
Making votes count
The term "gerrymandering" was coined in the United States in 1812 when Massachusetts Gov. Eldridge Gerry signed a bill that redrew and distorted electoral boundaries to benefit his Democratic-Republican party and minimize the impact of the opposing Federalist party votes. The Supreme Court affirmed the "one man, one vote" principle in 1962, and ruled gerrymandering unconstitutional in 1985.
The Northern Ireland Unionist Party introduced gerrymandering in the 1920s to recreate boundaries and ensure the election of Unionist Councils in areas like Derry where the Nationalist party had a high majority. The process continued until 1972, when the British government suspended Northern Ireland's Parliament. The single transferable vote system was used for the first time in Northern Ireland's 1973 elections. The balance of power shifted from the Unionist Party, and a more democratic form of government emerged. My vote finally counted. It was a privilege I never took for granted.
"This is a milestone for you and for America. You are our newest citizens and we value and appreciate the great richness and diversity you bring to our country. I thank you for the sacrifices you have made to get to this point, and look forward to the contribution you will make to this great country of ours."
He encouraged us to participate proudly and fully in America's future while retaining what was best from our cultures of origin and then invited us to stand for the oath of allegiance.
I stood on wobbly legs, raised my right hand and, loudly and proudly, publicly promised to "support and defend the Constitution and laws of the United States of America."
Family, friends, U.S. immigration and court officials, and representatives of various civic organizations, including the League of Women Voters, applauded.
I cried shamelessly.
The ceremony marked a moving moment in my personal and political journey that started in Derry, Northern Ireland. Like many in this country, I'd been involved in the long civil rights struggle to make my vote and that of others count. In my earlier years, gerrymandering was rife in Northern Ireland and my vote was rendered useless because of how political boundaries were drawn.
Now here I was, a newly minted American citizen with the right and the responsibility to vote and stand for political office if I so choose.
When Wyandotte County District Judge Dan Duncan encouraged us to take our new responsibility to vote seriously I suppressed the urge to stand and cheer. After all, it was a pretty solemn occasion and I'd promised Don I would behave.
Joy welled within me when Murguia invited us, America's newest citizens, to stand for "The Star Spangled Banner." As court employee Tami Anthony sang, this American citizen stood proudly, placed my hand over my heart and gratefully acknowledged all those from previous generations and cultures who fought hard, even sacrificed their lives, to earn for me and future generations the right to vote and live in freedom in this "land of the free and home of the brave."
At the ceremony's end, naturalization certificate and husband in hand, I made a beeline to the League of Women Voters' table. I registered to vote, full of joy and confidence that my vote, as an American citizen, would count and make a difference.
Copyright 2018 The Lawrence Journal-World. All rights reserved. This material may not be published, broadcast, rewritten or redistributed. We strive to uphold our values for every story published.