Past Event
When: Tuesday, March 30, 2010, 8 p.m.
Where: Chabad Jewish Center, 1203 W 19th St., Lawrence
Cost: Free
-->
-->
There are many traditions Susan Harris keeps for her yearly Passover seder. There's the matzo and the storytelling and all the remembrance of the Jews' exodus from Egypt. But then there's an extra hallmark that seems just as attached to the holiday as all of the customs, albeit from an unofficial standpoint.
The ever-expanding table.
The Passover holiday, which began Monday night and continues for eight days, celebrates the exodus of enslaved Jews from Egypt. And it's a celebration that's not easy or much fun to do alone. Meaning that those who are holding Passover seders - traditional dinners held the first two nights of the holiday - have taken the act of "making room for one more" and made it a truly flexible art form.
This year, Harris is holding a first-night seder for 22. The logistics of that include borrowing extra tables, renting chairs and pushing her couches and side tables along the wall to make room for a seder table that extends from her dining room clear to the opposite side of her living room.
"It's better if you're all together. One table's great, but obviously in situations like this, you extend," says Harris, a member of the Lawrence Jewish Community Center. "People just do it, right? Especially when you find out at the last minute that there's some stray single person, especially if it's a young person. I mean, you're just going to find a chair and find another plate and put it on the table and squeeze them in."
The squeeze
The reason you don't want to do tables in separate rooms is that the traditional readings and rituals surrounding the dinner just don't translate if everyone isn't within earshot or eyesight.
The word "seder" is derived from the Hebrew word for "order" and refers to the very specific order of the rituals surrounding the dinner. During the meal, the story of the Jews' escape from slavery is retold using a special text called the Haggadah. The Haggadah divides the night's ritual into 15 parts, meaning there's a certain time each person in attendance needs to eat or drink, break the matzo and ask or answer questions related to the telling of the exodus.
Definitely hard to enjoy or participate in from another room. Plus, you'll miss out on all the improvisations that makes each seder unique.
"Everybody tells stories of what their grandmother did. I'm getting a lot of stories from friends about making gefilte fish and how all our grandmothers started with live carp swimming in the bathtub," Harris says. "The sense of being together, and the sense of doing something my grandmother did - what else could I use my Jacuzzi for?"
Oftentimes that squeeze means two things. Firstly, that friends who'd love to do seders together don't get a chance because they don't want to close a home that could be open for singles who need a place to go, says Leni Salkind, member of the Lawrence Jewish Community Center and former interim director of Kansas University Hillel.
"We often say, 'Oh, too bad we can't do it together,' but you're still providing for that many more people by each person doing their own," Salkind says.
Secondly, what it means oftentimes is that it's hard to make room for non-Jewish friends who may want to experience the holiday's special dinners themselves, says Susan Elkins, former president of the Lawrence Jewish Community Center.
"We've had friends over the years who have really enjoyed that and been part of our seders, particularly people who have expertise in that place of the world or historically have great interest there, and so it's very meaningful for them," Elkins says. "I wish we could have more people, but as Leni has pointed out, space is problematic."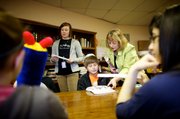 Passover and college life
Often the ones being squeezed in are students who can't get home because of a test or a paper or some other quirk of the academic calendar. That's the case for Justin Held, a KU freshman, who is spending his first Passover away from his family in Minnesota.
"My first thought was, 'How am I going to get home for it?'" Held says. "And then I realized it was just after spring break, so it would be just impossible to do that."
He decided to go to the Chabad Jewish Center for the first night's seder, and a friend in Held's dorm invited him to Kansas City for the second night's dinner.
Michael Solganik, a junior at KU, says that Held's experience is a typical one for a student, patching together a Passover plan unique to that year and situation. Solganik had to do just that last year, when academic conflicts kept him from his family's traditional seder in Ohio. He ended up heading to Kansas City with a friend from his fraternity, Alpha Epsilon Pi.
"A big part of it is being with your family and being with the people you care about and just having a place to go and not being alone," Solganik says. "The guys from Kansas City, typically they're pretty open and welcoming to anyone who would need a seder."
Harris, she of the 22-person super seder, sums up the feeling nicely.
"This is all about community," Harris says. "It's not religious in the sense of Good Friday, it's a big community holiday with ritual food and a sense of being together and doing something that people have done for about 3,000 years."
Copyright 2018 The Lawrence Journal-World. All rights reserved. This material may not be published, broadcast, rewritten or redistributed. We strive to uphold our values for every story published.