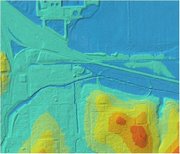 We received some very interesting feedback from readers at the Kansas Water Office regarding our story on the mystery of Woodland Park.
They've passed along a "LiDAR" image of the historic Woodland Park. (LiDAR — or Light Detection And Ranging — is an optical remote sensing technology that measures properties of scattered light to find range and other information from a distant target, typically using laser pulses from a plane.)
Debra Baker at KWO read the article and remembered that a coworker, Tina Rajala, had spotted an anomaly in a LiDAR of East Lawrence that looked like a race track. She sent the story link to Tina and here's the response she receieved:
Deb: This LiDAR image was collected in 2006 by Douglas County (it was part of a 14-entity contract with the USGS to collect LiDAR along the Kansas River corridor). The GIS department for DG County has the original data; as does the Data Access and Support Center. I got this image from Ingrid Landgraf at the USGS in Lawrence. It definitely supports the article's location of the Woodland Park, and the Daisy Dozer, as north of 12th St and Prospect Ave. Thanks for sharing the article! Tina
Copyright 2018 The Lawrence Journal-World. All rights reserved. This material may not be published, broadcast, rewritten or redistributed. We strive to uphold our values for every story published.