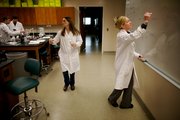 Roller Warriors "Hail Mary" and "Extremely Frank"
Something was missing from Amy Hough's life.
The 36-year-old marketing director for Strasburg-Jarvis had a successful career, a boyfriend and a dog, regularly practiced yoga and was a member of the Junior League of Kansas City. Everything was - thankfully, she says - very compartmentalized and peaceful.
"I realized for the first time that there was this part of me that hadn't had an outlet for a really long time. Not that it was the part of me that wanted to go around and smack people or kick people," Hough says and laughs, clicking the rings on her fingers against the top of her desk. "It was just this part of me that longed to be part of an athletic team unit."
Years earlier, when the Kansas City Roller Warriors female derby team was just getting started, a friend had invited Hough to a bout.
"The person that asked me to go sold it to me by saying, 'You've got to go see this, it's ripped fishnets and old-school skates, and there's this one girl who only has one arm and her name is Dirty Britches,' and I thought, 'Well, how can you not go to that?'"
A few years after this first encounter with the sport, Hough and her fellow Junior Leaguers planned a night out.
"We all decided that that would be the most non-Junior League thing to do, so we all went to a roller derby match. And I remember sitting there thinking, 'That looks really fun. You know what, I'm not dead yet, why wouldn't I try that?' Because life is about trying stuff."
Past Event
"The Coll-ides of March"
When: Saturday, March 27, 2010, 6 p.m.
Where: Municipal Auditorium, 301 W. 13th St., Kansas City, MO
Cost: $6 - $16
-->
-->
A Target sits beside the Winnwood Skate Center where the Roller Warriors practice, and on the day of the information meeting before tryouts for this year's team, Hough stopped in for some supplies. She saw a young woman, short and blond like herself, standing behind her in the checkout line, and she says she thought, "If anybody should be trying out for the roller derby team it is that chick right there. She looks like she needs to do that."
Failure not an option
Mary Harmon doesn't look much like a science professor, and she knows it.
"I already struggle with 'I am your professor and not your friend.' Everyone thinks that a young, hip, nice professor, she's so cool and therefore we can treat her differently. And therefore I did not want the whole roller derby thing out there."
So when a student reporter from the Johnson County Community College paper approached her about doing a story about her trying out for the K.C. roller derby team, Harmon thankfully declined.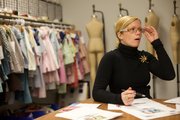 It was also right in the middle of tryouts, and Harmon, an associate professor of science at JCCC, wasn't sure that she was going to make the team. If she failed, she didn't want everyone to know. She didn't want to be known as "that genetics professor who didn't make the roller derby team."
The day of the information meeting before tryouts, Harmon stopped at Target before heading over to Winnwood.
It all started with a simple sentence: "Hey, didn't I see you at the checkout line at Target?"
'Roller wives'
As Hough and Harmon talked, they began to realize how much they had in common. They were older than most of the other girls, they looked similar, and they were both working professionals. They also lived close to each other, which allowed them to car-pool to and from the skating rink.
"The moments in that car - every trip was like a year of growing up in the derby world because you learn so much," Hough says. "That learning curve went so quickly. To have somebody to share it with was really nice because some of it is so odd, that unless there is someone there to validate the experience you just had, it's like it didn't happen. Did I just go in there and let women three times my size beat me up? Did that just happen?"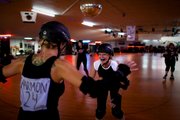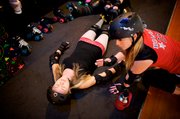 Harmon says she knows Hough's support was instrumental in her making the team, especially during the early morning weekend workouts and practices.
Now Hough skates under the moniker Extremely Frank (in honor of her dad), while Harmon goes by the self-explanatory Hail Mary. The rookie pair are bracing for the Roller Warriors' season opener, which takes place Saturday night at Municipal Auditorium, 301 W. 13th St., Kansas City, Mo.
"We went to every single practice," says the 35-year-old Harmon. "I am quite certain I would have skipped a handful if it weren't for, 'Oh, I've got to go pick up Amy. I can't not get out of bed.'"
Even though the two, who call themselves "roller wives," were drafted onto different teams under the Kansas City Roller Warriors - Hough on the on the Black-Eye Susans and Harmon on the Knockouts - they say they will still have the opportunity to practice together and even sometimes compete against each other.
"It's great," Hough says. "I think I will probably know her for the rest of my life."
Jon Goering is a staff photographer for the Journal-World.
Copyright 2018 The Lawrence Journal-World. All rights reserved. This material may not be published, broadcast, rewritten or redistributed. We strive to uphold our values for every story published.