Topeka — House Speaker Mike O'Neal, R-Hutchinson, on Tuesday urged an investigative committee to dismiss a misconduct complaint filed against him.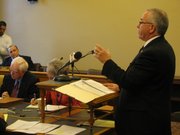 O'Neal, speaking for more than two hours to the bi-partisan committee, said the charge against him was baseless and accused Democratic leaders who brought the complaint of misconduct.
"I have been defamed," O'Neal said. "I have done nothing wrong. It is a disservice ... to proceed any further."
The committee took no action. It scheduled a meeting for Monday.
The dispute is over O'Neal, who is an attorney, representing trade groups and associations that are suing the state over an action taken by the Legislature last year to sweep fee funds from regulatory bodies to help balance the state budget.
O'Neal's lawsuit seeks a court ruling to declare the $5 million in fee sweeps unconstitutional.
Democratic leaders filed a complaint saying O'Neal has created a conflict of interest by representing powerful interests who have business before the Legislature.
O'Neal says he has complied with all laws that allow legislator-attorneys to represent clients in actions against the state.
Copyright 2018 The Lawrence Journal-World. All rights reserved. This material may not be published, broadcast, rewritten or redistributed. We strive to uphold our values for every story published.