Photo Gallery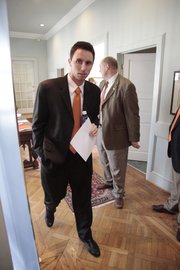 Brett Ballard to Baker
New Baker University basketball coach Brett Ballard believes it's possible to be a Wildcat and a Jayhawk at the same time.
"I'm ecstatic, excited, fired-up, ready to get going at a great place with some great people and at a place I think we can win some games," said former Kansas University guard/current Jayhawk director of basketball operations Ballard, who on Monday was named head coach of the BU Wildcats.
"But this also is tough. I've been here 10 years now — from playing (2000-02) to being on the staff (eight years). It's going to be hard to not come to work on Naismith Drive every day. To leave this place is bittersweet, but I'll still be a part of it," Ballard added. "No matter where my career path will lead, at the end of the day I'll always be a Jayhawk."
Ballard — he'll be introduced at a campus reception today in Baldwin City — has fulfilled a lifelong dream at the age of 30.
"My dad (Larry) was a coach (at Hutchinson High). I've wanted to be a coach a long time," said Ballard, who played at both Hutch High and Hutchinson CC. "It's kind of why I walked on at Kansas, knowing I probably wouldn't get to play much but would get to learn from a great coach (Roy Williams). Obviously, being with coach (Bill) Self the past seven years has been terrific. I've learned so much from coach and the coaches here. I've always had a desire to be around players, recruit and handle the coaching aspect of the program. This is a great opportunity for that."
Self said BU has hired the right man for the job.
"He will be a good coach," Self said. "Brett is an overachieving worker just as he was as a player. He has a great work ethic, is very good with people and he knows the game. Those are the most positive qualities you need to be a head coach. He'll be missed."
Baker president Patricia N. Long also spoke glowingly of Ballard on Monday.
"I am confident coach Brett Ballard is an excellent fit for Baker and the NAIA," Long said. "His values are in line with the NAIA's Champions of Character, which emphasizes integrity, respect, responsibility, sportsmanship and servant leadership."
"Brett is coming from one of the most highly regarded basketball programs in the nation with a history of winning titles and graduating athletes as the recent Inside Higher Ed academic performance report confirms. We know Brett is committed to the success of our student-athletes in the classroom and on the court."
Ballard succeeds Rick Weaver, who recently retired after 25 seasons.
Copyright 2018 The Lawrence Journal-World. All rights reserved. This material may not be published, broadcast, rewritten or redistributed. We strive to uphold our values for every story published.