-->
Audio Clips
2010 KU-Northern Iowa
KU basketball tweets
Photo Gallery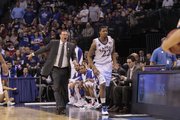 KU vs. Northern Iowa
Photo Gallery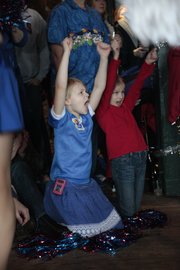 KU vs. UNI pep rally
Oklahoma City — Down one with 42.8 seconds left, his Jayhawks breathing with new life after staggering all game to catch up with Northern Iowa, Tyshawn Taylor went for the steal.
And missed.
An open Ali Farokhmanesh hit another game-securing three-pointer, Tyrel Reed committed an offensive foul, and the Jayhawks would be sent home early from the NCAA Tournament they were supposed to win, 69-67.
And that means Lawrence resident Laura Dahnert's father, seated next to her in Section 321, will just need to go to St. Louis and beyond on his own.
"I'm not going to the Final Four," she said, leaving her dad — a Georgia Tech alum whose Yellow Jackets remain alive in the Midwest Regional — to fend for himself. "You'll be going. I'll be at home."
As improbable was KU's comeback two years ago against Memphis that won a national championship, the Jayhawks couldn't finish a late charge that had enlivened the crowd for what would be the season's final few minutes at Ford Center.
The sluggish start that had become a familiar nuisance all season long simply had stretched too far, lasted too long and, ultimately, tightened its grip on the top-seeded Jayhawks, the NCAA Tournament's overall top seed and favorite to win it all.
Next year can't come soon enough.
"It's sad, but life goes on," said Mary Rodriguez, a retired schools administrator from Lawrence, joined by her family in Section 306. "They'll be just as good, if not better, depending on who sticks around. Everybody's got to do what's best for them, but we've got a good coach and he'll be able to work with what he has."
Tara Crotchett, who followed her 'Hawks to Oklahoma City from the Kansas City area, is counting on Xavier Henry and Cole Aldrich returning for next season for another run at a national championship.
That's the hope, anyway.
"We hope their fathers will help them realize that one more year of college is worth more than that big (NBA) paycheck," she said. "You never know."
Copyright 2017 The Lawrence Journal-World. All rights reserved. This material may not be published, broadcast, rewritten or redistributed. We strive to uphold our values for every story published.