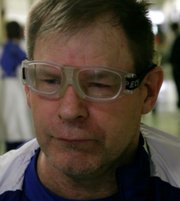 Local Special Olympian Todd "Leaper" Williams took home a gold medal for basketball Saturday at the State Basketball and Cheerleading Tournament in Hays.
But Williams also received an honor that meant more to him than his accomplishments on the court.
Williams was named the Kansas Special Olympics 2010 Most Inspirational Athlete in front of a packed gym at Hays High School on Friday night.
"It really has not sunk in yet," an emotional Williams said moments after receiving the award, given in honor of Lawrence Special Olympian Gary Samuels, who died in 1989.
Williams, who works for the Kansas University athletic department, has been involved in Special Olympics for four decades.
He's one of the more well-known Special Olympic athletes in Kansas, said local director John Samuels.
John Samuels said Williams' dedication to his team and Special Olympics made him a perfect choice for the award.
Thanking and hugging teammates after the ceremony, Williams said it was "a really good moment."
Copyright 2017 The Lawrence Journal-World. All rights reserved. This material may not be published, broadcast, rewritten or redistributed. We strive to uphold our values for every story published.