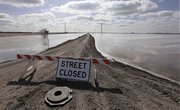 Fargo, N.D. — They passed out cigars in Fargo on Saturday, but no matches just yet, as a flood-weary city that's spent the last week getting ready to hold back the Red River cautiously prepared to celebrate what appeared to be a successful defense against the swollen waterway.
The river continued to inch upward toward an expected crest today a few feet below last year's record, to be followed by a quick and steady drop. As they waited, Fargo's residents turned their attention to cleaning up debris in low-lying neighborhoods where more than a million sandbags held back the waters, with some taking a break for basketball.
"Last year I was not sleeping well. This year I am sleeping like a baby," said Fargo resident Kevin Pladson, who last year counted on mounds of sandbags to keep the river away from his back deck. This year, the water isn't close. "I'm relaxing and watching as much of the NCAA tournament as I can."
The easygoing mood stood in stark contrast to last year, when floods along the north-flowing Red River sparked a last-minute frenzy of sandbagging that brought life to a halt and forced thousands to evacuate.
This year, residents in Fargo and neighboring Moorhead, Minn., were calm as the river completed a rise driven by the spring thaw of a thick snowpack: they walked their dogs, went shopping and worked out at the gym. At one mobile command center on the Minnesota side of the river, the focus early Saturday was on breakfast instead of levee breaks as sheriff's deputies spent the morning cooking deer sausage.
"It's been actually quite relaxing, compared to last year," said Fargo resident Jim Papacek. He had been so worried earlier this year about the prospect of flooding that he rented an apartment on higher ground away from the river and moved much of his furniture into it, just in case he had to evacuate.
But on Saturday, the retired teacher sat in his mostly empty living room looking out at the river, which had flooded part of his yard but hadn't reached his house.
In Fargo and Moorhead, flooding has so far been limited mostly to areas along the Red River, where 3-feet-high piles of sandbags that stretch for miles have prevented the water from reaching homes and other buildings. Some yards, bike paths, a baseball diamond and golf course have flooded — but without major damage.
In rural areas outside Fargo, more widespread overland flooding has submerged several farm fields and washed out a few roads.
Earlier this week, thousands of volunteers filled and placed sandbags and the Army Corps of Engineers built dozens of temporary clay dikes in Fargo and Moorhead to hold back a river that was forecast to approach last year's record. After the preparations were largely complete, the National Weather Service lowered its crest prediction several times as below-freezing temperatures helped slow the melting of snow and clear skies free of major rain storms were forecast for the next few days.
Though Fargo's mayor cautioned against celebrating too early, he was among the city officials handing out cigars at a meeting early Saturday. They were told to wait until after today's crest to light them.
There is a chance the river could later threaten homes and roads, especially if any of the clay levees are breached or if there is heavy rain in April. Mayor Dennis Walaker warned residents not to take down any flood barriers even as the city began cleaning up the surplus plastic, plywood and unused sandbags.
"There's always a battle between people who say it's over when it's crested. ... This is an ongoing problem," Walaker said. "Right now I feel all the dikes and sandbags and earthen dikes should stay in place at least until it's down to 30 feet," or about 12 feet above flood stage and well out of the danger zone.
Walaker said he was not aware of a single public building damaged by this year's floods, and National Guard soldiers who were watching the dikes found no major problems on Saturday.
Still, rural areas outside North Dakota's largest city faced some significant flooding from the Red River's smaller tributaries. Several farms were surrounded by water or had been turned into soggy fields. The nearby Sheyenne River was about a foot over flood stage at the town of Lisbon and was expected to stay at or near its crest level for about a week in most places.
Copyright 2018 The Associated Press. All rights reserved. This material may not be published, broadcast, rewritten or redistributed. We strive to uphold our values for every story published.