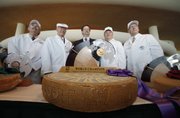 Madison, Wis. — The Europeans are still the big cheeses.
Swiss and Austrian cheesemakers took top honors Thursday at the 2010 World Championship Cheese Contest in Madison, beating out some 2,300 entries from 20 countries ranging from Argentina to Switzerland.
Cheesemaker Cedric Fragniere took top honors with a Gruyere that judges lauded for its creamy texture and light hint of herbs.
"It's very smooth, it's aromatic and it has a very clean cheese flavor," said Bill Schlinsog, one of 30 judges. "It has a burst of flavor and then it settles down very nicely in the mouth."
Fragniere didn't attend the judging but will be invited to a banquet in his honor next month in Madison.
The runner-up also was Swiss. Andeer Sennerei of Andeer, Switzerland, took second place with a smear-ripened hard cheese called an Andeerer Traum.
Third place went to Alois Pesendorfer of Gmunden, Austria, whose Gmundner Berg Premium won in the category of open class semisoft cheese.
To the cheesemakers who participate, this contest — touted as the largest international cheese and butter competition in the world — is serious business.
After Swiss cheesemaker Christian Wuethrich won in 2006 with an Emmentaler, he sold out his remaining stock of the Swiss cheese so fast he had to buy some back from his exporter to supply the local customers who make up most of his business.
Copyright 2018 The Associated Press. All rights reserved. This material may not be published, broadcast, rewritten or redistributed. We strive to uphold our values for every story published.