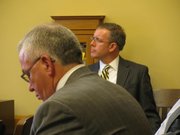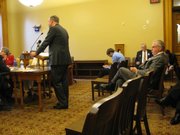 Topeka — House Democratic Leader Paul Davis on Thursday said House Speaker Mike O'Neal, R-Hutchinson, crossed the ethical line in his capacity as the lead attorney for a group suing the state.
"He has attorney-client relationships with some of the most influential interests in the Legislature," Davis, of Lawrence, said.
O'Neal, who was present during most of Davis' two-hour period with the committee, denied Davis' allegations. "He's got nothing because he knows I complied" with the law, O'Neal said.
Asked about a new allegation Davis mentioned to the committee, O'Neal told reporters, "That is absolute, total bullshit."
Davis testified before the House Select Investigative Committee on a misconduct complaint that he and other House Democrats have filed against O'Neal.
The Democrats allege O'Neal has created a conflict of interest by representing businesses and associations in a lawsuit against the state over the Legislature's action last year when it swept funds from regulatory agencies as a way to help balance the state budget.
O'Neal, who had voted against the fund sweep, has said state law allows legislators who are attorneys to represent clients against the state. He says the complaint against him is based on partisan politics.
The committee — made up of three Republicans and three Democrats — can dismiss the complaint or recommend a range of disciplinary actions from reprimand to expulsion from the House. O'Neal is scheduled to testify Tuesday.
In addition to the complaint, Davis brought up a new allegation, telling the committee that shortly before Thursday's meeting he was told that O'Neal blocked a legislative committee review of CVS Caremark Corp., which handles prescription drug benefits for state employees.
Davis said he was told that O'Neal represents CVS Caremark. After the meeting, O'Neal said he doesn't represent CVS Caremark and doesn't even know what the business does.
O'Neal said the chairman of the committee in question had asked him about launching a review, and O'Neal cautioned him because he said that wasn't really an investigative committee.
"I'm outraged" over the allegation, O'Neal said.
But nearly all of Davis' testimony and questions from the committee dealt with the complaint about O'Neal's involvement in the lawsuit.
Several legislators asked Davis where, in a citizen Legislature, to draw the line between a legislator's business and public service.
Davis said it was improper for O'Neal to represent powerful interests in litigation because the speaker has the most powerful position in the House. "The speaker has an enormous amount of influence over these entities' various legislative agendas," he said.
Copyright 2018 The Lawrence Journal-World. All rights reserved. This material may not be published, broadcast, rewritten or redistributed. We strive to uphold our values for every story published.