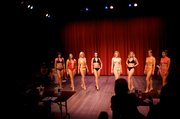 Two women earned scholarships and advanced to the Miss Kansas Pageant by winning titles Saturday night at the Miss Lawrence and Miss Leavenworth County pageants.
Cassi Reimer, who has qualified three times for the statewide event, was named the new Miss Lawrence. Reimer, 21, added to the more than $10,000 in scholarship funds she had previously earned from the Miss Kansas program, but she said her favorite part of competing in the pageant was not the prize.
"I like having fun with the girls. They aren't what people typically see as 'pageant girls,'" Reimer said. "We're not catty backstage, and it's all about having fun. If you can't have fun doing this, it's not worth doing."
Reimer said the most important part of preparing for the pageant was studying for the interview section of the competition and filling out paperwork such as a resume, questionnaire and platform statement.
In addition to winning the Miss Lawrence title, Reimer earned the Best Interview honor.
Cachet Hancock, a 23-year-old Overland Park resident, won the Miss Leavenworth County crown.
Hancock said she thought her best performance Saturday came in the interview section.
"It's a little more mental than people think," said Hancock, a Wichita State University graduate. "There's a lot of hard work that goes into it. It's all about showing who you truly are and what you bring to the table."
Eight women competed in the pageant, which included swimsuit, talent, interview and evening gown categories.
This year's event was the first after a nine-year hiatus.
Copyright 2018 The Lawrence Journal-World. All rights reserved. This material may not be published, broadcast, rewritten or redistributed. We strive to uphold our values for every story published.