Photo Gallery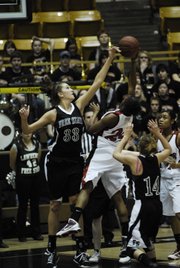 Free State girls vs. Wichita Heights
Emporia — Four minutes into the Free State girls basketball team's Class 6A state tournament matchup with Wichita Heights, it was hard to imagine things going much better for the Firebirds.
Four minutes later, it was impossible to imagine them going any worse.
In a 240-second span, the Falcons — who would eventually roll to a 64-45 victory — unleashed a smothering press that allowed them to rattle off an 18-0 run, turning their one-point lead into a 24-5 advantage at the end of the game's first quarter and promptly deflating any hopes the Firebirds might have harbored of advancing past Wednesday's first round.
"We went right at them; (our girls) weren't scared," said Free State coach Bryan Duncan, whose seventh-seeded team trailed just 6-5 with 4:06 remaining in the first quarter. "But they found out pretty quick how big and athletic they are."
Yeah, Wichita Heights, the tournament's No. 2 seed after finishing the regular season 21-1, didn't do anything to sully its reputation as one of the state's top high school programs.
Consider: Thanks largely to the Falcons press, the Firebirds turned it over nine times in the first quarter alone. They struggled mightily merely to get the ball across mid-court, and when they were able to get it across mid-court, they managed just seven first-quarter shot attempts (compared to 18 for Wichita Heights).
"I felt we were ready to play," said Free State senior Chantay Caron, who finished with a team-high 14 points and seven rebounds in her final prep game. "But by the looks of it, we weren't."
The disheartening thing was that the Firebirds knew what was coming.
They'd seen the film, knew the Falcons liked to turn up the pressure, force mistakes and then take advantage at the other end. And while they spent considerable time in practice this week attempting to prepare for it, there was only so much the team's backups could do to simulate the kind of defense Free State saw Wednesday night.
"Nothing could prepare us for that," said Free State senior center Ashli Hill.
And it wasn't just the pressure. Entering the game, the Firebirds figured that if they managed to lock down the paint defensively, the Falcons wouldn't be able to pull away with their three-point shooting.
Except that's exactly what they did.
Wichita Heights hit three three-point shots in the first quarter, including two in a row that pushed their lead to 13-5, to quickly establish itself as a team that could carve up opposing defenses in a plethora of ways.

"That destroyed us," said Caron. "We didn't expect them to shoot like that at all. We were supposed to crowd the inside, but they came out and hit shots."
Strange as it sounds, however, if it wasn't for that 18-0 run to close out the first quarter, the Firebirds likely would have made a game out of it.
Free State matched Wichita Heights in scoring through the final three quarters, 40-40, despite playing much of that stretch without Hill, who spent extended periods on the bench in foul trouble. Once the initial shock of the Falcons' pressure wore off, and they were able to get into their half-court defense, the Firebirds managed to score some points.
But their early deficit proved far too much to overcome, as they never got close in concluding a 15-8 season that, in the end, proved bittersweet.
"We made it to state," said Caron. "That's really what I wanted."
Copyright 2018 The Lawrence Journal-World. All rights reserved. This material may not be published, broadcast, rewritten or redistributed. We strive to uphold our values for every story published.