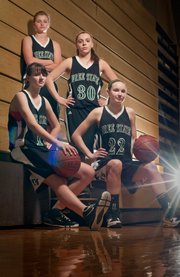 The first thing you should know about the five newest members of the Free State girls basketball team is that they are world-class gigglers.
Pretty much anytime you run into them, you'll find them huddled in a small group, giggling about this or that. They giggle when they're standing around after practice, they giggle when they are bopping around the locker room, and they giggle while they are telling you about their "wedgie-picking" older teammates.

"We're practical jokers," is how Abbey Casady, one of five of the team's new freshman players, explains it.

The second thing you should know is that, for all intents and purposes, they can handle themselves quite nicely on a basketball court.
Since joining the Free State girls basketball team less than a month ago thanks to a late-season district development that allowed freshmen in Lawrence to play varsity sports — in the past, ninth graders in the city's school district typically did not play on varsity teams if the sport was offered at the junior high level — the smiling newcomers have provided an immediate boost to a team that will open play in this week's Class 6A state tournament at 6:30 p.m. today against Wichita Heights in Emporia.

Kennedy Kirkpatrick and Chelsea Casady have had the biggest impact, establishing themselves as integral parts of the Firebirds' rotation, while Abbey Casady and Alexa Gaumer have both earned occasional playing time in the past month. Promising post player Courtney Hoag has spent the past few weeks gaining a good deal of experience by matching up with starting 6-foot-5 center Ashli Hill in practice.
"It's actually amazing how composed they've stayed in game situations," says Free State coach Bryan Duncan, whose team is 15-7 this season and 4-2 since adding the youngsters. "I was nervous about that — I was probably more nervous than they were about it. But I think at the end of the day, talented players know that they don't need to be nervous because they're going to be successful."
Perhaps nowhere was this poise more apparent than in last week's sub-state championship game against Shawnee Mission West.
Kirkpatrick and Chelsea Casady combined to score 17 points in a 50-45 Firebirds victory, and Kirkpatrick's three-point basket with 4:09 remaining in the game gave Free State a 46-44 lead and proved to be the game-winning basket.
"Whatever you can do to help," Chelsea Casady said.
Duncan stopped short this week of saying the freshmen have transformed the team into a state-caliber group, but he did admit that he can understand that perception based on the production they've provided in a short amount of time.
"Would we have won the game? I don't know," Duncan says of the Firebirds' narrow victory over the Vikings. "But it certainly, on paper, looks like we needed (them)."
Added Hill, a bit more bluntly, "They've definitely helped us to state."
The freshmen, for their part, seem to be taking everything in stride. Despite a relatively short transition period following the completion of their junior high seasons, they've meshed nicely with a varsity group that had been playing together for months, while managing, somewhat surprisingly, not to ruffle the feathers of older players — some of whom have seen their minutes decrease since the arrival of the freshmen.

With the exception of some first-game jitters, meanwhile, they've also had little trouble adjusting to the more, uh, boisterous crowds that come with the high school basketball territory.
Two weeks after concluding their respective junior high seasons, for instance, they were carrying themselves with considerable composure in front of a venom-spewing, packed-to-the-rafters crowd at the Jungle, during the annual City Showdown at Lawrence High.
"It's pretty much a different atmosphere than junior high, when we had, like, four people that cheered for us," says Kirkpatrick, who also scored 12 points in Free State's first-round sub-state victory over Shawnee Mission South.
This is not to say that the group hasn't endured a few road bumps along the way.
Abbey Casady's first varsity shot attempt bounced off the side of the backboard — "I was just like, 'OK, that's good; way to show it off,'" she says, smiling — and there was the day that Kirkpatrick, hurrying into the Free State gym on her way to practice, tripped on a rug and fell on her face in front of a group of presumably amused upperclassmen.

For the most part, though, things have gone splendidly for a group that will likely make up the future of the Firebirds program.
Entering next season, each of the five freshmen figure to play a prominent role for the Firebirds, who lose three of their top players — Div. I commitments Chantay Caron (Kansas State) and Hill (UMKC) and Wren Wiebe — to graduation. What's more, Free State will return a strong sophomore class highlighted by Lynn Robinson, a sharp-shooting guard who figures to be one of the area's top players next winter — meaning that what appeared to be a rebuilding-type season might not be as rough as initially expected.
"Short term, this is great for the run we have right now, and it's important for our seniors, to help them get as far as they can," Duncan said. "But the key here is the long-term effects this will have, and it goes well beyond those two freshmen getting these experiences. It goes, really, for all 14 freshmen that moved up — in particular the five that are still getting the experience at the state tournament. So the ones that are behind the scenes are really the future of our program, and the ones that may be benefiting the most from this."
But while the future is certainly something for which the freshmen express great excitement, they also seem to realize that, as freshman about to embark on a state tournament, their current situation isn't too bad, either.
"Chantay and Ashli and Wren, this is their first year going to state, and they're seniors," said Abbey Casady, following an afternoon practice earlier this week. "And we're freshmen and we just go to state.
"We've got to take advantage of that," she added, "and know that we're really lucky."
Copyright 2018 The Lawrence Journal-World. All rights reserved. This material may not be published, broadcast, rewritten or redistributed. We strive to uphold our values for every story published.