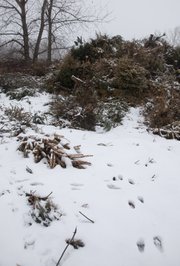 If you recycled your Christmas tree with the city of Lawrence this winter, chances are your tree is helping provide cover for deer, rabbits and other wildlife.
The city collected more than 2,320 trees in the annual recycling program and hauled them to the city landfill, where their branches and limbs provide animals with protection from predators and the winter's harsh weather.
The trees have been piling up at the landfill in North Lawrence since 1993, when the city first began collecting live cut trees after the holidays. Today, the stack is roughly 8 feet tall and covers a 200-foot area.
"The number of trees collected varies each year," said Cassandra Ford, a waste reduction and recycling specialist for the city. "This year definitely improved. It's obvious that a lot more Lawrence residents were involved in the process."
The Christmas tree recycling service is part of the city's solid waste service and is included in residents' monthly fee.
"Residents pay for trash to be picked up, yard waste pickup, recycling services, hazardous waste disposal, and tree-cycling," said Kathy Richardson, the waste reduction and recycling operations supervisor.
To publicize the effort, the department provides Christmas tree recycling posters to grocery stores that have tree sales in their parking lots, and posts notices with the media and on the city's Facebook and Twitter pages.
"It's important to know that the trees being taken from Lawrence homes are serving as a landscape for rabbits, coyotes and deer," Richardson said. "Any way we can get the word out, we'll do that."
Other communities also recycle trees, creating fish and bird habitats as well as landscape mulch.
Jim Twigg, environmental programs coordinator in Overland Park, said that city has four locations for Christmas tree drop-offs.
"The trees are recycled into mulch and used in landscaping, or they are chipped and used for playground material in the city's parks," Twigg said. "We managed to collect 2,400 trees this season to be turned into mulch."
Copyright 2018 The Lawrence Journal-World. All rights reserved. This material may not be published, broadcast, rewritten or redistributed. We strive to uphold our values for every story published.