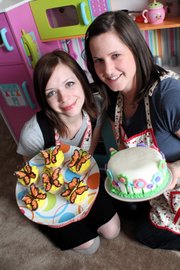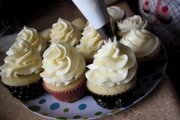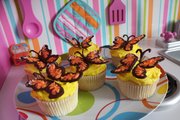 In this climate of uncertainty, businesses are shedding employees or shuttering their doors altogether. Economists, analysts and investors — when not swan-diving from Wall Street skyscrapers — struggle to find a solution. Gold? Too volatile. Oil? Too dangerous. Cupcakes? Too … delicious?
As it turns out, no one is discussing cupcakes as an economic savior. But, if the founders of Atomic Bakery have their way, cupcakes and tasty treats could lead to growth in sectors other than your waistline.
"I truly believe that Atomic can survive the long haul, even in this crappy economy," says Victoria Partridge, Lawrence resident and co-founder of the fledgling bakery.
"We're loaded with a great idea and an arsenal of excellent products. Throw in a couple of fun baker chicks, and I think we've got ourselves a winning combination."
Atomic Bakery is hoping to carve out a niche for itself in Lawrence by providing a full array of goods for every diet, specializing in vegan, gluten-free and sugar-free delectables (although traditional diabetic shock and awes are still on the menu). While bullish on their baking prospects, the enthusiasm is tempered by economic reality.
"It would be naïve of us to think that we are recession-proof," says the other "fun baker chick" at Atomic Bakery, Overland Park's Betsey Whited. "I recognize that what we offer is a luxury, and luxuries are the first thing to go when people cut back. However, if we watch our costs closely and keep overhead to a minimum, we are better able to offer our yummy treats at recession-friendly prices. The economy has probably made us better planners with our business."
Creative confections
Their creations might be frivolous, including cakes shaped like giant Bud Light cans or available in flavors ranging from margarita to Nutella, but the business planning is quite serious. As a couple of culinary enthusiasts who met as English grad students and didn't know the difference between LLC and TLC, Partridge and Whited reached out to a local resource for guidance.
"Thankfully, there is the KU Small Business Development Center, and they have been quite helpful with giving me the inside scoop on what steps Betsey and I should be taking," Partridge says. "And, there is always the Internet. God bless the Internet."
For now, Atomic Bakery is a second job for both of its founders, operated out of their home kitchens and funded with their own money. "I am a ninth-grade teacher. I'm perfecting the art of multi-tasking and juggling dual duties," Whited says. "I generally use my weekends for the bakery and my weeknights for school."
On top of juggling a small business and a day job, Partridge is also a single mom. "I am a wee bit of a glutton for punishment. I'll admit that right now," says Partridge.
"Starting the bakery, while working full-time and being a single mom is kind of like grad school, only it's more fun."
They've been plugging away for almost two years now in low-budget obscurity, depending on free advertising from word of mouth and social media.
"I was trying to find ways of saving money for our wedding, so I was looking up bakeries on MySpace, and Atomic Bakery was there," says Shima Ortiz McCurdy, a recent customer of Atomic Bakery. "The first thing that grabbed my attention was the cupcake towers Atomic Bakery did. That's what I wanted, and I knew they could make it happen. We had a great experience working with Victoria. She helped make my cupcake tower dream come true. She delivered and set everything up at a small fee, and we rented the tower from her with a deposit that we got back when it was returned. I would highly recommend her to anyone that is wanting delicious cupcakes or cakes for their wedding, birthday, anniversary or just because."
A home of their own
In a perfect world, where they continue to net more wedding and catering gigs, Atomic Bakery would like to open up a shop in Lawrence's business mecca.
"We'd love to have a storefront open by the end of the year. And, of course, we are looking at or around Mass. Street," says Partridge, although financing is always an issue. "We have not yet applied for any loans. We are currently learning more about our available financial options and will then decide which is the best route to go. The financial aspects of starting up a business are the most disheartening because, without a trust fund, it is definitely the most difficult part."
For these self-made confectioners, the potential for making a living from Atomic Bakery — even in the face of a dour economy and a perilous mortality rate for small businesses — makes the long days and hardscrabble infancy of their endeavor worth it.
"The best upside is watching our hopes and dreams coming to fruition," says Whited. "We can show others that we had a hobby that turned into a dream that will hopefully turn into a great success. The idea of being my own boss and setting my own hours sounds delightful. And who wouldn't love to spend every day doing the thing they love most? It will be an amazing feeling when we are at the point of supporting ourselves fully by baking and decorating cakes. It makes me giddy to think about!"
Coffee Hazelnut Cupcakes by Atomic Bakery
Prepare any chocolate cake recipe you like, and add the following:
Dissolve 1 teaspoon of instant espresso to 1 tablespoon of water, then add to mix.
1/4 cup Nutella (microwave it for 15-20 seconds so it mixes into the cake mix well).
Mix it all up, and fill your cupcake liners.
Bake as the chocolate cake recipe says, cool, then spread with hazelnut icing.
Hazelnut Icing
Start with a base of any chocolate or vanilla icing. I favor cream cheese icing, but any will work.
1/4 cup Nutella (microwave until is it smooth enough to stir into icing, but not so hot it will melt the icing, about 20 seconds).
Sprinkle chocolate shavings on top.
Marshmallow Fondant
1 10.5 oz bag of marshmallows
1 2lb bag of powdered sugar
1/2 cup water
Shortening
Prepare your countertop or baking mat — clean it well then generously cover 1 square foot with shortening (this will ensure that the marshmallows don't stick). Cut open the powdered sugar and set it aside.
Put marshmallows in a microwave safe bowl with 1 tablespoon of water.
Microwave in 30 second intervals, stirring each time, until it is entirely melted.
Pour melted marshmallows onto the counter covered in shortening.
Start by dumping 1/3 of the bag of powdered sugar onto the marshmallows.
Cover your entire hands in shortening- this next step can get dirty!
Once the powdered sugar is incorporated, keep adding increments of the sugar and water 1 teaspoon at a time until the mixture is no longer sticky. You should end up with a nice ball of fondant.
It usually takes a couple teaspoons of water and almost all of the powdered sugar- depends on temperature and humidity.
Tips
Enough to cover a two layer 9" round cake with a little left over for some adorning.
If coloring the entire batch, add the color to the melted marshmallow mix using food coloring gels only (this is the easy way).
If needing different colors, make fondant as listed above, then knead in the gel food color.
It is best to seal the fondant using a vacuum sealer, but regular saran wrap will work. Make sure it is air tight.
Fondant will be good for about six months if kept air tight.
Copyright 2018 The Lawrence Journal-World. All rights reserved. This material may not be published, broadcast, rewritten or redistributed. We strive to uphold our values for every story published.