Photo Gallery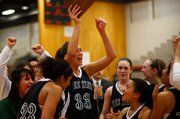 Free State girls vs. SM West
Photos from the Firebird girls' victory against Shawnee Mission West on March 5, 2010.
Shawnee — Over the past four months, Chantay Caron and Ashli Hill have been the focal points of a Free State girls basketball team that has established itself as the area's best.
So it wasn't overly surprising that the two seniors held center stage Friday night during the Class 6A sub-state finals, essentially willing the Firebirds to a 50-45 victory over Shawnee Mission West and ensuring the team a spot in next week's state tournament in Emporia.

Caron finished with a team-high 20 points and 12 rebounds, and Hill added 11 points, 10 blocks and six rebounds, though the statistics told only part of the story of the players' impact. Down the stretch, the two made countless plays, gobbling up offensive rebounds, making key defensive stops and doing everything necessary to prolong their season with the team's first state tournament berth since 2007.
"We've waited three years for this, me and (senior forward Wren Wiebe) and Ashli," said Caron of the team's three senior captains. "It's kind of like a fairy tale ... I'm kind of still shaking."
Before they could begin making travel arrangements for White Auditorium, though, the Firebirds had to overcome a third-quarter collapse that threatened to derail a promising postseason run.
Following a strong first-half, in which it built a 24-21 lead thanks largely to Caron's 14 first-half points, Free State emerged from halftime in an apparent daze. Shawnee Mission West scored two quick baskets out of intermission. Then added another. Then another.
By the time the Vikings' run had ended, Free State's three-point lead had disintegrated into an eight-point deficit, and given the apparent obstacles facing the Firebirds — the largely pro-SM West crowd, foul trouble for both Caron and Hill — the team's outlook didn't exactly appear to be bubbling with promise.
But the team bore down when it needed to.
Free State slowly climbed back into contention, and Hill connected on three straight field goals during a one-minute stretch in the fourth quarter to give the Firebirds their first lead since the start of the third quarter.
Free State also got a lift from a pair of unlikely sources.

Freshman Chelsea Casady finished with eight points on 3-of-5 shooting, and fellow freshman Kennedy Kirkpatrick hit a pair of fourth-quarter three-pointers, the second of which came with 4:09 remaining in the game and gave Free State a 46-44 lead.

"That's what I'm most proud of," said Firebirds coach Bryan Duncan. "It would have been really easy to fold or fall apart a little bit, and instead, I think our kids got even better, kept their composure and came back with an 8-0 run of our own."
Free State played so well down the stretch, in fact, that the Firebirds were able to overcome an 0-for-7 fourth-quarter free-throw performance, an issue that will likely need to be corrected heading into next week's state tournament, when points figure to be a bit tougher to come by.
"I think I kind of set the tone for missing free throws," joked Hill, who was 1-for-4 from the line in the second half before fouling out with 1:04 remaining. "So that's my fault."
Friday night, however, minor issues could wait.
As players trickled out of the visitors' locker room, they did so with the smiles and jubilation that come with a state tournament berth, and although there's plenty of work still to be done, there was no denying Friday's excitement, particularly for the team's three senior captains.
"It's been a great season, and we've had a lot of great accomplishments," Duncan said. "But our ultimate goal was to get to the state tournament. And I can't think of three better people I'd love to see get that experience."
Copyright 2018 The Lawrence Journal-World. All rights reserved. This material may not be published, broadcast, rewritten or redistributed. We strive to uphold our values for every story published.