Photo Gallery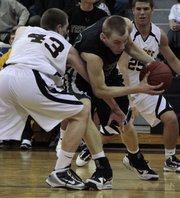 Free State boys vs. SM West
Photos from the sub-state game between Free State and Shawnee Mission West on March 4, 2010.
Overland Park — Free State 29, Shawnee Mission West 27.
That's not the halftime score. And it's not a typographical error.
In a Class 6A sub-state first-round boys basketball game marked by brutally bad shooting, the Firebirds survived and advanced Thursday night in the Vikings' gym.
"Every team making a tournament run has a bad game," Free State coach Chuck Law said. "We played a bad game, and have a chance to play another game."
That next game will be at 5:30 p.m. Saturday against SM South in the SM Northwest gym. The winner will qualify for the 6A state tourney next week in Emporia.
Neither the Firebirds nor the Vikings looked anything like state-caliber on a night when it seemed like the players were shooting at upside-down peach baskets.
Both teams shot under 30 percent — Free State 26.3, SM West 29.4 — and the Firebirds probably tied a national record by winning a game despite failing to score a single point in one of the quarters.
That's right. Free State put up a goose egg in the second quarter by wasting 11 possessions (nine missed shots, two turnovers). That was after the Firebirds had exploded for a 7-0 lead and a 12-6 advantage at the end of the first quarter.
"We came out with our guns ablazin' against their zone," Law said. "Then they went to man, and we went flat. We stunk about as bad as any team you could see."
That stink abated — at least somewhat — in the second half. With 21⁄2 minutes remaining the Firebirds enjoyed a 27-25 lead and they had the ball.
Then disaster struck. Free State's Eric Watson threw an errant pass into the backcourt, and SM West's Justin Austin intercepted and raced for an uncontested layup to knot the count at 27 with 1:39 showing.
Moments later, Watson coughed the ball up again.
"I was getting down on myself," Watson said.
But Watson kept his head up and minutes later would shed those goat horns in dramatic fashion.
SM West had the ball with a little more than a minute left, and opted to play for the last shot. Finally, with about eight seconds to go, Austin unloaded a three-pointer. Clang. Free State's Nick Hassig retrieved and quickly unloaded a pass to Evan Manning, who was streaking down the left side of the court.
After a couple of steps, Manning drilled a pass to Watson barreling down the right side, and Watson went up for a guarded layup. The ball went in. But had Watson's shot beaten the clock? Indeed it had, the referees ruled, by a fraction of a second.
"Obviously, I didn't know how much time was left," Watson said, "but by the crowd's reaction I could tell it was good."
The game-winner, ironically, was Watson's only basket of the night.
"There are lots of times in sports when you don't get an opportunity to redeem yourself," Law said, "but Eric took off on the fly and made a great play."
During his postgame debriefing, Law confirmed the exciting Hassig-to-Manning-to-Watson scenario wasn't what he wanted at that moment.
"Yeah, I was trying to call a timeout," Law said with a smile, "but thank goodness they couldn't hear me."
Free State, the No. 5 seed in the sub-state, will take a 10-11 record into Saturday's state qualifier. SM West, the No. 4 seed, finished with a 10-11 record.
Copyright 2018 The Lawrence Journal-World. All rights reserved. This material may not be published, broadcast, rewritten or redistributed. We strive to uphold our values for every story published.