Alcohol and drug violations at Kansas University marked a 10-year high last year, according to crime data released by the university on Friday.
Related document

KU crime statistics ( .PDF )
Sixteen driving while intoxicated offenses, 48 drugs and narcotics violations and 28 liquor law violations were reported in 2009 at the university. The numbers were at their highest in a decade and came during the same year that two KU students died in alcohol-related incidents, which incited change from university leaders.
KU police also responded to the highest number of robberies in 2009, according to data going back to 1999. There were eight robberies on campus last year, compared with the 1.4 yearly robbery average that police said they see.
"Three of the 2009 cases spawned from a single event at McCollum Hall in which a suspect took items from three rooms," said Capt. Schuyler Bailey, KU Public Safety Office spokesman, in a news release.
Police arrested suspects in two of the robbery cases and determined one of the incidents had actually occurred off campus.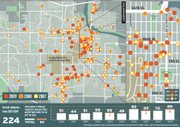 Crime was also at its 10-year low in several categories, including burglaries and theft. Overall, crime at the university has dropped about 35 percent since 1999. There were 706 crimes reported on campus in 2009, compared with 1,094 in 1999.
Bailey said the overall nonviolent crime decrease can be attributed to "increased police patrol, camera surveillance and educational efforts to encourage students and staff to take precautions to avoid being a victim of crime."
Copyright 2018 The Lawrence Journal-World. All rights reserved. This material may not be published, broadcast, rewritten or redistributed. We strive to uphold our values for every story published.