Photo Gallery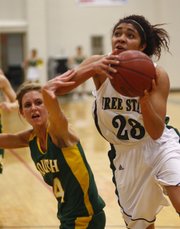 Free State girls vs. Shawnee Mission South
Photos from the Firebirds' matchup against Shawnee Mission South on March 3, 2010. The Firebirds advance to the next round of the sub-state tournament.
Kennedy Kirkpatrick had no problem describing how she felt when her name was called as the first player off the Free State High girls bench Wednesday.
"Oh yeah. I was a little nervous," Kirkpatrick said, smiling.
She sure didn't look nervous. In the first sub-state game of a promising prep career, Kirkpatrick drilled four threes in Free State's 46-33 victory over Shawnee Mission South.
Kirkpatrick scored 12 points and shot 4-of-7 from beyond the arc in playing the majority of the game. She nearly drained one more three, but it rattled around the rim and trickled out at the last moment.
The 5-foot-8 freshman has armed Free State (14-7) with another serious scoring threat to complement typical first and second options Chantay Caron and Ashli Hill, both seniors. Caron scored a game-high 15 points and grabbed five rebounds, while Hill registered eight points, four boards and four blocks.
Kirkpatrick, who began practicing with the Firebirds a few weeks ago after her hoops season ended at Southwest Junior High, clearly has earned the trust of her teammates in a short time.
"I have just as much confidence in her as I do in my seniors," Caron said.
Granted, Kirkpatrick played with some of the girls on the varsity team last summer, and Wednesday represented her fourth varsity game. But Wednesday also represented a sub-state atmosphere that she never had witnessed.
"It's no secret: Kennedy's a great shooter," Free State coach Bryan Duncan said. "She came in and hit threes. She also handled the ball better, and her defense is getting better. That's what I'm most excited about."
The Firebirds rotated several guards — Kirkpatrick, Lynn Robinson, Wren Wiebe, Jackie Garcia and Nicole Humphrey, to name a few — and wore out the Raiders with a full-court press that lasted all four quarters. The result? SM South (7-14) committed 21 turnovers.
"We're smart enough to know that in the playoffs, defense is going to be what creates some easy baskets for us," Duncan said. "Sometimes, (the opponent) is just a little bit more uptight on hitting shots when it's a pressure-filled situation."
SM South had opportunities to run its half-court offense after breaking the press. The Raiders, however, shot just 26 percent (11-of-42) from the field, as compared to Free State's 38.5 percent (15-of-39).
"For every game, that's pretty much our key. We have to play defense to win the game," Caron said. "If we don't, it probably won't happen because that's how we score."
No. 3 seed Free State (14-7) will face No. 2 Shawnee Mission West (17-4), which defeated Leavenworth, at 5:30 p.m. Friday at Shawnee Mission Northwest in the sub-state finals. The winner will advance to the Class 6A state tournament in Emporia. Free State lost to SM West earlier in the season, 46-41, in Overland Park.
"I was hoping to play and get this opportunity," Kirkpatrick said of suiting up in the playoffs as a freshman. "I'm really excited. Hopefully, we'll play like we've played all year: tough defense and staying together."
Copyright 2017 The Lawrence Journal-World. All rights reserved. This material may not be published, broadcast, rewritten or redistributed. We strive to uphold our values for every story published.