Photo Gallery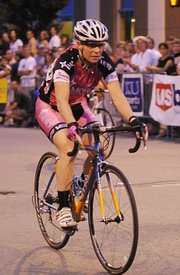 Tour of Lawrence 2009
Tour of Lawrence 2009
World-class cycling is coming to Lawrence this weekend for the Tour of Lawrence, a three-day event that will include both intense competition and youth-friendly participation.
A look at some of the numbers:
2
This is the second-annual Tour of Lawrence, an event produced by the Lawrence Convention & Visitors Bureau. For event details, including maps and schedules, visit TourofLawrence.com.
200
Length, in meters, of the Eldridge Hotel Sprint course, an uphill climb along Seventh Street, between Kentucky and Massachusetts streets. Women's heats start at 7:30 p.m. Friday, with the men's competition to follow at 8 p.m.; a Kids' Zone, sponsored by Lawrence Central Rotary, will provide a bounce house, obstacle course and other free activities at Seventh and Massachusetts. The Mudbugs will provide live music from 9 p.m. to 11:30 p.m. in the 600 block of Massachusetts.
4
Length, in miles, of each loop in the KU Campus Circuit Race, with competitions to run from 9 a.m. to 6 p.m. Saturday on the Kansas University campus. Spectators can park in the parking garage adjacent to Allen Fieldhouse, or along campus side streets.
400
Number of racers expected to compete in the pro-am event sanctioned by USA Cycling.
$20,000
Amount of prize money available.
8
Number of turns in each trip around the mile-long Tour of Lawrence Criterium course, to be used by fast-riding and endurance-ready riders beginning at noon Sunday and ending about 8 p.m. in downtown Lawrence. Riders in each event cover the course as many times as they can in 70 minutes; whoever covers the most distance wins.
1
Distance, in miles, of the appropriately named Mass Street Mile Run, sponsored by Garry Gribble's Running Sports. The event has races at 9:30 a.m., 9:50 a.m. and 10:20 a.m. Sunday before ending with the free Mass Street Kids Run — with distances ranging from 50 to 200 yards, depending on kids' ages — beginning at 10:40 a.m. For more information, visit MassStreetMile.com.
0
Cost, in dollars, for the second annual Free Kids' Bike Race, organized by the Lawrence Bicycle Club and sponsored by Growing Smiles Pediatric Dentistry. Bicycles, tricycles, scooters and Big Wheels are welcome to ride down Massachusetts, from Ninth Street. The first 250 racers receive a medal, and participants coupons for a free ice cream cone and taco, plus a chance to win a Cycle Works gift certificate.
Copyright 2018 The Lawrence Journal-World. All rights reserved. This material may not be published, broadcast, rewritten or redistributed. We strive to uphold our values for every story published.