Photo Gallery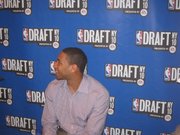 Scenes from the day before the NBA Draft
Former KU players participate in pre-event activities at the NBA Draft.
-->
New York City — It was a fitting way for former Kansas University basketball players Cole Aldrich and Xavier Henry to be welcomed into the NBA — side by side.
For 30 minutes earlier today at the Westin in Times Square, Aldrich and Henry fielded a variety of questions from dozens of media outlets from around the world.
Aldrich, dressed in slacks, a white shirt with a dark blue tie and a plaid green and blue vest, seemed incredibly relaxed during the process and often joked with reporters and even turned the questions back on them.
The basics from Aldrich's message to the media? "I don't care where I'm drafted, who picks me or what number I go. I just want to play ball. Because after tomorrow night, that's when it all starts. And from there it doesn't matter who was picked where."
Henry, who wore khaki slacks with a light burgundy shirt, also appeared calm throughout the process. He also appeared to be incredibly confident, perhaps more so than any of us saw during his time at Kansas.
When asked how he did at the workouts, Henry did not hesitate to gush.
"I think I opened some eyes," he said. "I think I showed them that I'm more than the player they saw at Kansas."
When asked if he was nervous at all, Henry flashed his signature smile, took a second to chuckle and responded with a convincing, "No."
"The only reason you're nervous," he said, "is because you don't know where you're going to go. But I've done all I can, I've shown what kind of player I am and done all the workouts. Now we just have to wait and see what happens."
Both Aldrich and Henry are expected to be drafted in the first 14 picks, selections known as The Lottery. Both players said they paid basically no attention to the mock drafts that are out there and both said they honestly had no feel for where they might be picked.
When asked how he would sell himself to NBA teams if given the chance, Alrdich showed a little more savvy than most expect the Bloomington, Minn., native to have.
"I'd tell them to watch the Lakers-Celtics, Game 7," said Aldrich, referring to the recent NBA Finals. "That game was all about defense, the big guys were in there banging. And that's what I love to do. I think that's what I'll be able to contribute the most at the next level."
At one point during the 30-minute media sessions, Aldrich and Henry — separated by just 20 feet — were able to display the kind of banter that Kansas fans have come to expect from both. Without hesitating, Aldrich interrupted Henry's interview by yelling over to tell him that he owes Aldrich some dinners for all the times the big man took the freshman out back in Lawrence.
Henry's response? You guessed it, a huge grin and an "OK."
Shortly after that, the two were asked to do promos for Maxim magazine and the clowning continued. Henry, who took a couple of takes to get his right, laughed throughout. When Aldrich got his turn, he used Henry's name and tried to do so with a straight face. At that point, both guys cracked up and showed further that they really were enjoying the moment.
Following the session with reporters, Aldrich and Henry were whisked away into different rooms to do more one-on-one interviews with national media — TNT's Craig Sager and ESPN's Andy Katz, included — and then had to go through another round of photo shoots for the NBA and various other publications.
This afternoon, both former Jayhawks will participate in an NBA Fit promotion at Madison Square Garden, in which all of the players who spoke to the media will lead 100 local kids through a workout, highlighted by a free throw shooting clinic put on by 13-year-old Justin Friedlander, who founded "Justin's Quest" after being diagnosed with an inoperable brain tumor. Justin, who is from the Washington D.C. area, is attempting to get closer to his goal of reaching 63,000 baskets, equivalent to the approximate number of individuals diagnosed with a primary brain tumor in the U.S. each year. Justin and his family established "Justin's Quest" to raise awareness and funding to help find a cure for brain tumors through the National Brain Tumor Society.
Shooting alongside Justin will be former Kentucky Wildcat John Wall, the likely No. 1 overall pick in this year's draft, who many expect will be suiting up for the Washington Wizards next season.
Stay tuned in to KUsports.com throughout the rest of the day for more and be sure to follow me on Twitter for more updates.
Copyright 2018 The Lawrence Journal-World. All rights reserved. This material may not be published, broadcast, rewritten or redistributed. We strive to uphold our values for every story published.