Photo Gallery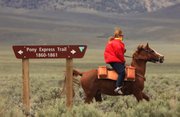 150th anniversary of the Pony Express
Re-ride recount
Check out LJWorld photographer Richard Gwin's first-person account of what the re-ride was like.
It was a 1,966-mile route that operated for 18 months, linking St. Joseph, Mo., with California.
This summer, riders again are retracing the Pony Express, to commemorate its 150th anniversary. And Journal-World photographer Richard Gwin is along for the ride — not on a horse — to document the three-week journey, which began June 6 in California.
Although commemorative rides have been held for the past 30 years, organizers decided to ride only in daylight hours — so communities along the route could have celebrations.
On the way, riders will have traveled through Nevada, Utah, Wyoming, Nebraska, Utah and Kansas — to conclude the journey in St. Joseph. This morning, the riders are departing Chappell, in western Nebraska, bound for Brady, about 30 miles east of North Platte. The group is scheduled to arrive at the Nebraska-Kansas state line at 6 p.m. Monday.
Events are planned this week in Marysville, Seneca and Horton. Next Saturday, the National Pony Express Association riders will arrive — with commemorative letters — in St. Joseph for ceremonies at the Patee House Museum, the site of the original Pony Express headquarters.
For more information, visit www.xphomestation.com.
Copyright 2018 The Lawrence Journal-World. All rights reserved. This material may not be published, broadcast, rewritten or redistributed. We strive to uphold our values for every story published.