Photo Gallery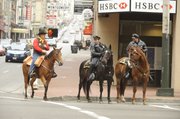 150th anniversary of the Pony Express
When I was hired to document the 150th anniversary of the Pony Express by Arleta and Ken Martin, of Marysville, a couple I met while covering the Downtown Christmas parades in Lawrence, I had no idea what was in store.
Leaving San Francisco, I made photographs of a cowboy riding a horse — being escorted through the streets of Chinatown — as people looked in amazement. The horse made its way down toward the wharf; the Pony Express mailbag, or mochila, filled with commemorative letters, took a boat ride to Old Sacramento, Calif.
Slowly but surely, the riders trotted the horses toward Folsom, a stop on the Pony Express trail. The route took the horses past Folsom Prison, through residential neighborhoods and east toward the Sierra Nevada Mountains.
What a history lesson I'm getting.
The horses went up the mountain roads and onto the original trails — some covered with late snowfall up to 2 feet. The smell of pines were refreshing, after being in the city. Next, the route went into the deserts of Nevada, which I thought would be warm. No. The highs were 45 degrees. We didn't see asphalt for three days, but saw plenty of history. As we looked at four old stations, we could imagine the riders of 150 years ago coming from a distance.
A light snow fell as we left Callao, Utah, about 15 miles east of the Nevada-Utah border.
We took a journey north to old Fort Pierce in Utah, where three wooden crosses marked the graves of two Cavalry soldiers and one Pony Express rider. It was very inspirational.
We were off again, and the next day we moved through Salt Lake City — traveling on side roads as the locals waved and stopped to catch a glimpse of the rider in a red shirt. Beyond Utah we moved across Wyoming — enduring 60 mph winds — before we stopped in Scottsbluff, Neb., where we started the 13th day of this re-enactment.
My group travels in a new Ford Expedition — in air-conditioning and comfort. It took us 10 days to complete just half the ride.
But the original riders did the entire route in 10 days, traveling day and night, in snow and rain. And sometimes with Native Americans in chase. During Abraham Lincoln's presidency, the Pony Express needed just seven days and 10 hours to carry Lincoln's presidential address from the Midwest to the coast.
Copyright 2014 The Lawrence Journal-World. All rights reserved. This material may not be published, broadcast, rewritten or redistributed. We strive to uphold our values for every story published.