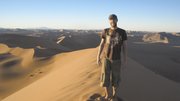 Lawrence resident Jason Becker best describes himself as "adventurous." The former Wichita high school art teacher has worked his entire life to help others and to venture outside his comfort zone. That effort would never be more evident than during his latest excursion.
"For a couple of years I had just been wanting a change and I wanted something new," said Becker, who is a lifelong cyclist.
The change he sought took Becker to the Internet, where he searched for the longest and most intense bike trip in the world. He'd had experience riding long distances but never anything like this latest journey.
"We did a mountain bike trip up to Mount Everest base camp four years ago and saw Tibet and Nepal in the process," said Becker. "That was the thing that I had done to date."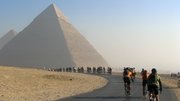 That changed when Becker stumbled upon the Tour D'Afrique.

Becker quit his teaching job, sold his house to pay for the $10,000 trip, moved to Lawrence and spent three months preparing for a ride that's about 7,500 miles — from Cairo, Egypt, to Cape Town, South Africa.
"I didn't think it was crazy, I just thought it was adventurous and that's something that I've always considered myself," Becker said. "This seemed like the perfect fit for me."
Becker couldn't make the expedition on two wheels without helping others, too. He picked up Project Rwanda as a charity and has contributed more than $1,500 since he first pushed off in Egypt earlier this year. Becker's goal is $3,000.
The trip was four months long, through rugged terrain and villages with little to no infrastructure. About 60 cyclists participated. Becker has a hard time picking out just a couple of memorable moments, but says his eyes were opened by the scenery and the kindness of the people.
"Namibia by far was I think the most stunningly beautiful place and I think it had to do with just the vastness of it," said Becker. "You can just see this genuine kindness and willingness to give and beautiful smiles. I guess I'm trying to make them sound like they're different than we are and they're not."
Becker was one of only 12 riders who didn't use any transportation or help along the way. That feat earned him the designation E.F.I., which stands for Every Fabulous Inch.
Four months into the trip, his mountain bike carried Becker into Cape Town, South Africa, completing a trip he still thinks about almost daily.
"I talk with other people who were on the trip and we miss it," said Becker. "I miss the people."
Becker will now use his art skills to re-create the trip in paintings, jewelry and sketches. He plans to hold an art show and pass part of the profits along to Project Rwanda.
For more information about Becker's charity, log onto projectrwanda.org.
Copyright 2017 The Lawrence Journal-World. All rights reserved. This material may not be published, broadcast, rewritten or redistributed. We strive to uphold our values for every story published.