Prior to Thursday's announcement that Athletic Director Lew Perkins would retire at the end of the upcoming school year, Kansas University's chancellor was presented with a host of unanswered questions about Perkins' involvement in an ethics scandal.
Chancellor Bernadette Gray-Little's office released a report Wednesday clearing Perkins of wrongdoing in a controversy surrounding $15,000 worth of exercise equipment from a KU vendor that Perkins was allowed to use free of charge.
As part of the report, Gray-Little issued a statement saying she had "full confidence" in Perkins' ability to lead the athletic department in the days ahead.
The Journal-World on Thursday morning presented a host of questions to Gray-Little's office seeking answers to questions unanswered in the report, and seeking Gray-Little to further explain her support for the embattled athletic director.
For most of Thursday, a university spokeswoman said KU leaders were working on a response. The chancellor's office issued several general responses early Thursday evening after news of Perkins' pending retirement.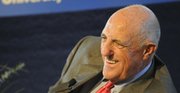 KU Athletic Director led the Kansas Athletic Department for seven years and retired on Sept. 7, 2010. Look back at his time at KU.
Questions for chancellor
Among the key items the Journal-World sought responses to were:
• Questions regarding what Perkins knew when he reportedly allowed $15,000 worth of exercise equipment to be installed by Medical Outfitters in 2005. Medical Outfitters was a vendor of KU Athletics, and an open records request by the Journal-World discovered the company saw its sales to KU Athletics increase significantly following the installation of the equipment.
Perkins' attorney previously has said in a published report in the Topeka Capital-Journal that Perkins did not believe the equipment belonged to Medical Outfitters. Instead, Perkins believed the equipment belonged to William Dent, a then-employee of KU Athletics. Dent has since become the subject of allegations that he later sought to blackmail Perkins over the equipment issue.
The Journal-World asked Gray-Little to address whether she thought it was a good management practice for Perkins as a supervisor to accept a $15,000 gift or loan from a subordinate. Lynn Bretz, KU spokeswoman, did not specially address that question in a statement Thursday evening. But she did stress the chancellor was comfortable that Perkins did not promise any favors or consideration for the use of the exercise equipment.
• Also not addressed Wednesday was why the chancellor's investigation did not seek to determine whether Perkins had violated an athletic department policy that states: "Kansas Athletics personnel may not accept gifts, payments, entertainment, privileges or other favors which might influence future decisions made by Kansas Athletics." Wednesday's report left it unclear who would be responsible for determining whether Perkins had violated that ethics policy. The state Governmental Ethics Commission has been asked to look into concerns that Perkins violated a similar state ethics law.
Bretz said the university is awaiting completion of the state review before making any determination regarding personnel actions.
• Wednesday's report created new questions about an in-kind donation that Medical Outfitters made to KU Athletics. Wednesday's report originally said Medical Outfitters had donated a whirlpool device that should have been credited in 2004 to the company's donation total used in figuring its standing in KU's ticket point system. But the donation inadvertently was not credited to the company's total until the 2005-2006 season. That credit did allow Medical Outfitters to receive better seats for the 2005-2006 season, the first season following Perkins' use of the $15,000 in equipment.
But Bretz stressed investigators did not find evidence that the use of the $15,000 in equipment played a role in Medical Outfitters receiving better men's basketball seats.
The Journal-World asked the chancellor's office for information regarding how much the whirlpool was valued at, and how large of an upgrade in seats Medical Outfitters received in the 2005-2006 season. In the university's response Thursday, Bretz said KU had erred in saying the company donated a whirlpool device. Instead it was an electrical stimulation and ultrasound device valued at $6,190.
But Bretz declined to release information about how much of an upgrade in seats Medical Outfitters received. She said that information would have to come from Kansas Athletics, "if such information is able to be made public."
• The Journal-World also sought further clarification about the reasons behind Gray-Little's support of Perkins given that a previous investigation into the ticket scandal made findings that led some to question Perkins' management and oversight of the department.
Those findings included that five employees — many of whom were either hired or promoted by Perkins — are alleged to have committed serious violations regarding tickets. The report also found that the department had a consultant who also was the husband of one of the alleged ringleaders of the ticket scandal on the payroll, and Perkins during the course of his fiduciary duties never discovered that fact.
In her statement, Bretz said Perkins had many successes at the university and that the chancellor has faith in his ability to lead the department.
"Lew Perkins has overseen remarkable success of Kansas Athletics in a wide variety of areas, including student-athlete academic performance and performance in competitions, and the enhancement of facilities," Bretz said in the statement. "Decisive actions are being taken to implement safeguards and restore confidence in the ticket office, and the Chancellor is confident in Perkins' ability to focus on what is best for our student-athletes and KU as the university navigates the changing college athletics landscape."
Perkins' attorney was provided a list of the questions the Journal-World submitted to the chancellor and was asked to respond. The Journal-World did not receive a response.
Copyright 2018 The Lawrence Journal-World. All rights reserved. This material may not be published, broadcast, rewritten or redistributed. We strive to uphold our values for every story published.