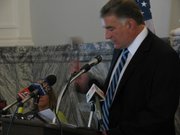 Topeka — Lawrence voters can expect a lot of attention over the next few months.
A crowded field of candidates will run in the Republican and Democratic primaries that will be Aug. 3.
Kansas Secretary of State Chris Biggs, himself a candidate, urged voters to become familiar with candidates and the issues.
"I believe that running for office is one of the most important forms of civic engagement," he said. There are 346 candidates that filed for state offices.
Johnson County Republican Party Chairman Ronnie Metsker, who filed papers on behalf of the last candidate before the deadline, said he senses an anxious or eager? electorate.
"People are excited about making a change," he said.
Democratic or Republican party candidates wanting a spot on the Aug. 3 primary ballot were required to file by noon Thursday. Libertarian or Reform candidates nominated by caucus or convention were also required to file nomination papers. Independent candidates must file nomination petitions by noon Aug. 2 to appear on the general election ballot.
The winners of primaries will then run against one another in the Nov. 2 general election.
Who's on the ballot?
Click here for a list of who's running for positions in the primary and general elections this year.
Much of the candidate shuffling is due to retirements.
Nine candidates — five Democrats and four Republicans — are vying for the U.S. Senate seat being vacated by Sam Brownback, a Republican running for governor.
Two of those candidates are U.S. House members, which has opened the floodgates for their offices.
In northeast Kansas, the retirement of U.S. Rep. Dennis Moore, a Democrat whose 3rd District includes east Lawrence, has released a storm of pent-up political ambition. Nine Republicans and two Democrats are wanting to represent the 3rd District.
And in District 2, which includes west Lawrence, U.S. Rep. Lynn Jenkins, R-Topeka, faces a primary challenge in state Sen. Dennis Pyle, R-Hiawatha. Meanwhile, three Democrats duel on the Democratic side.
While the battle royale takes shape on who gets to go to Washington, D.C., the races to represent voters in the Kansas Legislature in Topeka are more sedate.
Locally, state Reps. Tony Brown, D-Baldwin City, Anthony Brown, R-Eudora, Barbara Ballard, D-Lawrence, Tom Sloan, R-Lawrence, Paul Davis, D-Lawrence, and Lee Tafanelli, R-Ozawkie, face no opposition in their respective primaries. In fact Davis, who is the House Democratic leader, and Ballard will face no Republican opposition in the general election either.
Copyright 2018 The Lawrence Journal-World. All rights reserved. This material may not be published, broadcast, rewritten or redistributed. We strive to uphold our values for every story published.