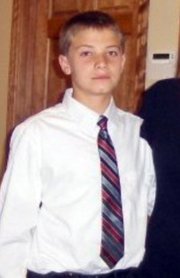 Family members are asking for help finding a 13-year-old Lawrence boy who ran away last week from his mother's North Lawrence home.
Shirley Morriss said her son, Stevie Drake, who will be a South Junior High School eighth-grader this fall, last was seen about 2 p.m. May 29. He left the house without permission after she told him that he could not go swimming, Morriss said.
Sgt. Bill Cory, a Lawrence police spokesman, said Morriss filed a missing person's report on May 29. Cory said officers have checked places where family members said Stevie could be.
Morriss has not see or heard from him since. Family members have posted fliers around Lawrence and created a Facebook page "Please Help Find Stevie Drake," which had 365 members early Friday afternoon.
Morriss said Stevie is about 5-foot-2, weighs 110 pounds with buzzed light-brown hair and brown eyes. Morriss is asking anyone who sees Stevie to call police at 832-7509.
Copyright 2018 The Lawrence Journal-World. All rights reserved. This material may not be published, broadcast, rewritten or redistributed. We strive to uphold our values for every story published.