Rain showers Tuesday morning couldn't put out the "Flame of Hope."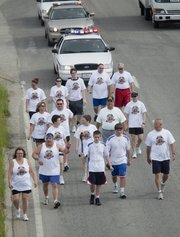 Law enforcement officers are making their way down U.S. Highway 59 toward Ottawa, carrying the torch that will help light the cauldron, kicking off the 2010 Special Olympics summer games in Wichita.
Officers with the Douglas County Sheriff's Office, Lawrence Police Department, Kansas University Public Safety Office and Eudora Police Department are participating in the annual Torch Run.
Runners began their leg of the journey shortly after 9 a.m. Tuesday from the parking lot of Crown Automotive at 34th and Iowa streets.

They then made their way south down U.S. 59 and are expected to pass the torch to Franklin County officers in Ottawa later Tuesday afternoon.
The runners are being accompanied by marked patrol cars from several agencies, and drivers heading south on U.S. 59 could experience some delays.
Douglas County Sheriff Ken McGovern said the group has already raised more than $8,000 to support the Special Olympics.

About 700 officers statewide will help carry the torch through 33 Kansas counties on its way to Wichita.

The summer games kick off on Friday.

Copyright 2017 The Lawrence Journal-World. All rights reserved. This material may not be published, broadcast, rewritten or redistributed. We strive to uphold our values for every story published.