Photo Gallery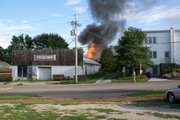 Fire rips through Lecompton cabinet store
Numerous fire crews worked Monday night to keep a fire at Wood N Stuff Cabinets in Lecompton from spreading to nearby buildings.
A Monday evening fire that gutted the Lecompton Wood-N-Stuff cabinet-making shop caused $340,000 in damage to the building and its contents, H. Wayne Riley, chief of Lecompton Fire/EMS said Wednesday.
Firefighters monitored the charred remains of the building, 515 Woodson Ave., all day Tuesday after hot spots continued to flare up.
The amount of wood and flammable materials used inside the cabinet shop caused the fire to smolder and impeded the ability of investigators and insurance adjusters to assess damages, Riley said.
He said fire investigators were unable to determine an official cause of the fire because of the extent of the damage. Workers at the cabinet-making company typically use combustible items, such as stains and lacquers.
"It's just too far gone. The destruction was too great to determine anything," Riley said.
He said witnesses reported that the fire seemed to have started in the south end of the building, where workers finish the cabinets. Solvents are also used there, Riley said.
Firefighters from multiple communities aided Lecompton firefighters and were able to save nearby buildings from major damage.
Copyright 2018 The Lawrence Journal-World. All rights reserved. This material may not be published, broadcast, rewritten or redistributed. We strive to uphold our values for every story published.