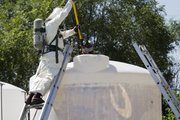 Crews from the Environmental Protection Agency and Lawrence Douglas County Fire and Medical conducted an investigation Tuesday at MagnaGro International.
Officials in protective suits took samples from containers and tanks at the business, 600 E. 22nd St., in what an EPA spokesman said was a routine follow-up to a compliance evaluation visit on June 1.
David Bryan, public affairs specialist with the regional EPA office, said crews were on scene to examine MagnaGro's chemical inventory and took samples from the facility's hazardous waste tanks to ensure the material is being properly stored. Lawrence Douglas County Fire and Medical crews did not participate in the investigation, but were on scene in case the EPA required emergency assistance.
The samples will be analyzed at a laboratory and then officials will release a report, Bryan said.
He said the EPA's investigation is not connected with events last week, when city inspectors and police officers shut down the business because it had operated in violation of city codes for three years.
MagnaGro has a extensive history of run-ins with local, state and federal environmental regulators.
And last April, two MagnaGro employees died at the plant after they were overcome by fumes from a material being mixed at the site. An investigation is ongoing into the men's deaths.
Copyright 2018 The Lawrence Journal-World. All rights reserved. This material may not be published, broadcast, rewritten or redistributed. We strive to uphold our values for every story published.