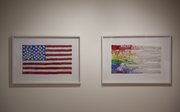 POP exhibit artists
• Ann Dean
• Kendra Marable
• Archie Gobber
• Dan Anderson
• Kristin Morland
• Jamie Warren
• Alison Filley
• Jeff Eaton
• Jeremy Rockwell
• Joelle Ford
The Lawrence Arts Center gallery will transform into a popular culture extravaganza tonight.
The walls will be lined with pieces made by nine artists — most of whom are local — that illustrate their idea of American culture in the POP exhibit, which will be open through Aug. 20.
Lawrence Arts Center curator Ben Ahlvers put the exhibit together because he said all of the pieces in it were toying with the idea of popular culture.
"Every individual will have their own definition of pop culture," he said.
There are posters, signs, photographs, teapots and lots of color.
Lawrence artist Kristin Morland has two pieces in the exhibit. The first is an American flag made of sequins that represents President George H.W. Bush's common saying, "1,000 points of light." The second, also a flag made of sequins, is a rainbow — reminiscent of the pride flag — that represents President Barack Obama's common phrase "glimmers of hope."
Morland said the flags represent how "shiny" speech can be.
"Everyone always looks for the best," she said. "In the real world it's not as shiny; it's much harder and dirtier."
Morland said her flags, which took her two years to complete, represent popular culture because they are commonly used to label groups or ideas that people want to express.
Archie Gobber, an artist from Kansas City, Mo., is interested in advertising. His pieces are signs that explore current themes that he believes fit in with American popular culture: mortgage problems, triumphs and troubles.
"I try to emulate the art of sign-making and by using my own sort of language and context, to talk about things that are going on right now," he said.
Individually, the pieces might not look like they could create a common theme together. But, Ahlvers said, as a group in the exhibit, they work together to display new ideas about pop culture.
"It's all about creating new conversation," Ahlvers said. "And I think that's what art is supposed to do."
The reception for the POP exhibit starts at 7 p.m.
Copyright 2018 The Lawrence Journal-World. All rights reserved. This material may not be published, broadcast, rewritten or redistributed. We strive to uphold our values for every story published.