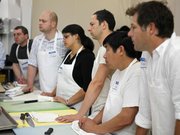 San Francisco — Get out your knives: more Americans are learning how to butcher their own meat.
Cooking enthusiasts and eco-conscious food lovers are signing up for classes where they learn how to carve up whole hogs, lambs and other farm animals, the latest trend among foodies who want a closer connection to the meaty morsels on their forks.
On a recent evening in San Francisco, a dozen men and women met at a rental kitchen in the Mission District to break down a 170-pound hog under the guidance of Ryan Farr, one of many "artisan butchers" bringing the art of butchery to the masses.
After Farr and his assistant plunked the slaughtered pig on a sprawling stainless steel table, the students — wearing white aprons and brandishing cleavers, saws and hatchets — took turns cutting up the carcass. Soon the animal was reduced to hundreds of individual cuts of meat.
"I like the part when you cut the head and you see what's inside. You discover pieces here and there that you didn't expect," said Alex Castellarnau, a designer in San Francisco. "It's very crafty."
The growing interest in butchery comes as more consumers become conscious of how the food they eat affects their health and the planet, inspired by books such as Michael Pollan's bestseller, "The Omnivore's Dilemma." The demand for healthy, sustainably produced foods is driving more people to shop at their local farmers market and even raise chickens in their backyards.
The students who attend Farr's classes are mostly avid home cooks and self-described foodies who want to know the origins of their pork tenderloin or lamb shanks.
Copyright 2017 The Associated Press. All rights reserved. This material may not be published, broadcast, rewritten or redistributed. We strive to uphold our values for every story published.